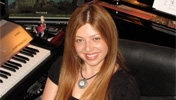 Pinar Toprak is a composer with an impressive number of credits (27 scores in the last five years), including the 2010 film The Lightkeepers starring Richard Dreyfuss, Blythe Danner, and Bruce Dern. Her score for the film was on the Oscar short list of eligible scores. Other credits include scores for the action film Behind Enemy Lines 2: Axis of Evil, the crime drama Breaking Point with Tom Berenger and Busta Rhymes, the animated feature Light Of Olympia featuring the voices of Debbie Reynolds and Phyllis Diller, and the romantic drama Say It In Russian starring Faye Dunaway and Stephen Brand. She has also written music for the Xbox 360 video game "Ninety Nine Nights" produced by Microsoft, as well as numerous trailers and commercials.
Toprak was born in Istanbul and began her music education at the age of five at the renowned Istanbul State Conservatory. While at the conservatory, she studied composition, violin, and voice, and graduated with a diploma in classical guitar. In 1997, she moved to Chicago and studied piano and jazz theory with many master jazz pianists. She later decided to combine her two biggest passions, music and film, and traveled to Boston to attend the Berklee College of Music. She finished her bachelor's degree in film scoring in just two years and moved to Los Angeles to further pursue her career in film music. At the age of 22, she received a Master of Music degree in composition, and her thesis was commissioned by California State University and performed by the CSUN Symphony Orchestra.
After completing her master's degree, Toprak joined the Media Ventures team (now known as Remote Control), home of the legendary film composer Hans Zimmer, during projects such as Pirates of The Caribbean, The Last Samurai, and King Arthur. After working as Zimmer's programmer, she decided to venture on her own. She currently resides in Los Angeles, working out of her own studio on several upcoming, exciting features.