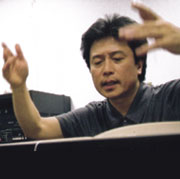 All Courses
Duration
: 12 weeks
Credits
: 3
For-credit Tuition
: $1,449
Non-credit Tuition
: $1,200
Add 6 CEUs
: $25.00
Faculty Comments
"The Berkleemusic online school overcomes the limitations of time and space that are built into the classroom experience. Students can learn whenever they like, wherever they like, at whatever level they're at, proceeding through a class at their own speed. It also helps students in more isolated situations network and build a community with others who share their love and devotion to music."
-Jimmy Kachulis
Songwriting and Lyric Writing professor at Berklee College of Music, and Online Instructor of
Songwriting Workshop: Hit Song Forms
and
Songwriting Workshop: Melody
Student Comments
"There is certainly a sense of community - that came to me as a surprise. My classmates and I were constantly reviewing each others work. Once we all got comfortable with the idea of feedback, there was a real camaraderie online."
-R Klein