Writing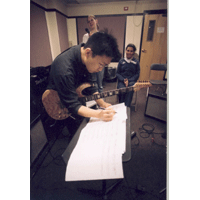 Learn the fundamental concepts to songwriting, including harmony, melody, rhyming, lyric form and structure. Wrote a song? Great! Learn how to publish it, and copyright it, and sell it.
Spark your imagination with creative writing and arranging techniques.
From beginners looking to hone basic concepts of notation to advanced composers looking for jazz voicings or reharmonization techniques, Berklee Press is proud to publish many a wide array of books from Berklee College's esteemed faculty.