Melody in Songwriting
by Jack Perricone
available from Amazon.com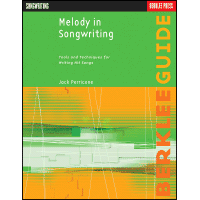 Discover songwriting techniques from the hit makers!
Melody is a subject too often neglected in the teaching of music. This unique resource gives melody that attention it deserves, and proves that melody writing is a skill that can be learned.
Through proven tool and techniques, you will learn to write interesting melodies, how melodic rhythm influences rhyme, what makes harmony progress, and the many dynamic relationships between melody and harmony.
This clear and comprehensive approach to songwriting unlocks the secrets of popular songs, revealing what really makes them work. Examples of great songs by such notable songwriters as Lennon and McCartney, Diane Warren, Robert Palmer, and more, provide a close-up illustration of the songwriting techniques employed by these masters of the industry.
This is the book used in Songwriting classes at Berklee College of Music. The exercises provided make it a wonderful self-teaching manual and a great addition to any general theory course of any level. Use the tools presented in this book to help fine-tune your craft and start writing hits!
About the Author
Jack Perricone
Jack Perricone, co founder of Berklee College of Music's unique Songwriting Department, has enjoyed a distinguished career as songwriter, composer, and arranger. His work includes such hits as "Run, Joey, Run," which reached Billboard's 1975 Top Five, and Angela Bofill's "What I Wouldn't Do (For the Love of You)." His songs have appeared on the Pop, Country, and r&b charts, and have been recorded by David Geddes, Lou Rawls, Jerry Butler, K.T. Oslin, and many others.
Sample Lessons on Berklee Shares
Samples from this title are available on Berkleeshares.com, where you can download free music lessons and share them with your friends.