Drum Set Warm-Ups
by Rod Morgenstein
available from Amazon.com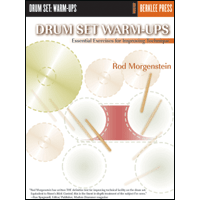 Step away from the practice pad! Legendary drummer Rod Morgenstein reveals his innovative warm-up method designed to limber up your entire body. While snare/pad warm-up books focus on hand, wrist, and finger development, Drum Set Warm-Ups will get your arms and whole body moving in clockwise, counterclockwise, up, down, side-to-side, cross-over, cross-under, and criss-cross motions.
Develop and improve:
speed and power
control and coordination
independence and accuracy
endurance and agility
Drum Set Warm-Ups is the perfect complement to warming up on a practice pad. This workshop will increase your confidence, and give you a greater facility and command of the drum set. It will help you develop the necessary skills and techniques to play to your full potential.
About the Author
Rod Morgenstein
Rod Morgenstein is a founding and current member of the Grammy-nominated progressive rock-fusion group, the Dixie Dregs, and a multi-year winner of Modern Drummer Readers Poll Best Progressive Rock Drummer. He has recorded and toured with the Rudess Morgenstein Project, Platypus, the Steve Morse Band, and Jazz Is Dead, and was an original member of Winger. Rod is an associate professor of percussion at Berklee College of Music and an international drum educator and clinician. He has authored four drum-set books and has written columns for Modern Drummer, Rhythm, and Sticks magazines.
BUZZ
"Rod Morgenstein has written the definitive text for improving technical facility on the drum set. Equivalent to Stone's Stick Control, this is the finest in-depth treatment of the subject I've seen. Destined to become a classic in drum literature and a must for anyone serious about the instrument."
- Ron Spagnardi, Editor/Publisher, Modern Drummer magazine
"This book is one of a kind. Every drummer can gain so much from working with it and will have a ball playing the exercises. A very well-researched book that will benefit any drummer."
- Joe Morello, Legendary jazz drummer (Dave Brubeck Quartet), author of Master Studies
"At last, a Stick Control for the drum set player. Rod's innovative ideas, technique, and musical abilities are funneled into this great warm-up concept. A must for every player and teacher."
- Vic Firth, Timpanist, Boston Symphony Orchestra
"An amazing book! It contains a wealth of ideas and challenges for control and development of dexterity on the drum set. By practicing these limb movements, not only do you warm up and move more easily around the drum set, but you find new musical ideas that you might not have ever discovered without the challenges of these new movements. I highly recommend it to ANY serious student of the drums."
- Danny Gottlieb, Drummer (Pat Metheny, Sting, Al Di Meola)
"Like an athlete, a drummer needs to warm up. Playing these exercises will definitely help you become more coordinated, fluid, accurate, and in command of your drum set. This book will improve your technique, and give you new ways to develop musical ideas."
- Kenny Aronoff, Drummer (John Mellencamp, Smashing Pumpkins, Melissa Etheridge), Modern Drummer Readers Poll #1 Pop/Rock & Studio Drummer
"Rod has compiled a great collection of warm-up exercises for the drum set that will help you feel very relaxed on your kit. Especially helpful are the examples that include unusual motions on the drum set, which can really improve your dexterity."
- Steve Smith, Drummer (Vital Information, Journey), Modern Drummer Readers Poll Five-Time #1 All-Around Drummer
"Drum Set Warm-Ups offers more than exercises for warming up on the drum setÐit offers endless possibilities for developing technique. The exercises are logical, idiomatic, and easy to read. If you are a drum set player, this book is a must-have."
- John H. Beck, Professor of Percussion, Eastman School of Music