How To Get a Job in the Music and Recording Industry
by Keith Hatschek
available from Amazon.com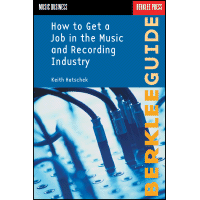 THIS ITEM IS CURRENTLY BACKORDERED
Please click here to view other online vendors that may carry this product.
Get more than your foot in the door! Have you ever dreamed of producing or engineering the next Top 10 hit or working your way up from mail room to executive suite at a record label? Stop dreaming and start reading. This book offers a detailed guide that will educate and empower the serious music and recording industry job seeker.
Author Keith Hatschek is an industry insider with more than 25 years experience as a musician, studio owner, and marketing consultant. He shares tips and secrets to help you successfully position yourself to get today's best music and recording industry jobs.
Inside you'll find:
The big picture on career opportunities in music and recording
Details on booming job prospects in new media including gaming and Internet audio
Workshops that will help you assess and develop your own personalized career path
A resource directory of key publications and industry trade organizations
Interviews with top pros who discuss how they got their start, plus what skills today's leading job candidates must possess
Tips on developing expert networking skills
A step-by-step guide to developing a first-rate resume
Read a sample chapter
ACCELERATE YOUR MUSIC CAREER WITH AN ONLINE COURSE TAUGHT BY AUTHOR KEITH HATSCHEK AT BERKLEEMUSIC.COM!
Accelerate Your Music Career- berkleemusic.com
BUZZ
"Provides an advantage for those seeking entry into this rarely advertised job market...drawing on the author's considerable experience in the fields of recording, studio management and marketing. Offers a lively, engaging and informative how-to primer."
- Billboard magazine
"A no-nonsense look at the kinds of jobs available in the music biz and how to snag one."
-Electronic Musician magazine
"Outlines a nuts and bolts approach that will greatly improve your odds of landing a prized music industry position."
-Singer Magazine
"A good resource for the recently graduated who wish to get a job in larger studios."
-Tape Op magazine
"Take the information in this book and combine it with your own creative abilities, and you've got the makings for a great career in the music business."
- Tony Brown, President, MCA Records, Nashville
"The first thing I would do if I was looking for a job in the music industry is buy this book‹by far the best I've read on how to get started. Hats off to Keith!"
- Al Schmitt, Ten-Time Grammy-Award-Winning Recording Engineer
"For anyone seeking a career in the music and recording industry, this book is a must. It sorts out the complex relationships between musicians, technicians, producers, and the money. With the insider's knowledge Hatschek provides, readers will feel like they have their own friend in the music business."
- Roy Pritts, Professor, Music Engineering, University of Colorado at Denver, President, Audio Engineering Society
"Armed with years of experience as a musician, engineer, consultant, and marketing expert in the recording industry, Keith Hatschek delivers a dose of inspiration and a fistful of facts to anyone wishing to enter the business. Easily the most compelling and comprehensive book on the subject."
- Paul Verna, Producer/Engineer, Author of The Encyclopedia of Record Producers, New York Editor of Mix Magazine
"A hands-on how-to book that will work for anyone wanting to break into the recording industry. I will be recommending this book to my students."
- Christian L. Haseleu, Professor & Chair, Recording Industry Department, Middle Tennessee State University
Sample Lessons on Berklee Shares
Samples from this title are available on Berkleeshares.com, where you can download free music lessons and share them with your friends.
Also by Keith Hatschek