Book/CD
HL #50449425
ISBN 0-634006479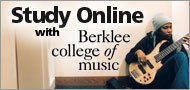 Blues Guitar Workshop
Blues Guitar
Learn the techniques and licks of classic blues stylists, such as T-Bone Walker, Lightning Hopkins, B.B. King, and Magic Sam.
Classic Rock Guitar Workshop
Classic Rock Guitar
Elevate your playing by learning the styles and techniques of the architects of classic rock guitar: Hendrix, Clapton, Beck, Gilmour, and Page.

Blues Improvisation Complete - C Treble
by Jeff Harrington
available from Amazon.com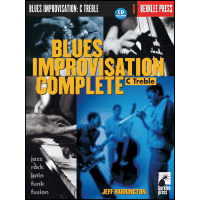 Master the art of blues improvisation. Learn to play the blues in several styles - jazz, Latin, fusion, and funk with step-by-step instructions, practice tips, and a play-along CD. Even if you are a complete beginner, this easy-to-understand guide will have you improvising in no time!
Learn how to:
Create killer solos using the hundreds of great licks included
Get the sound of the blues under your fingers and into your ears, so you can keep your playing fresh, spontaneous, and original
Improve your sound, phrasing, and rhythm through technical studies and rhythmic exercises
Increase your confidence as an improviser using the practice routines in every section
Jam in a variety of styles with the rhythm section on the play-along CD
Develop essential skills in reading, technique, listening, rhythmic syncopation, performance, and solo composition. Learn to improvise over 12-bar blues in all keys and bring your musical ideas to life!"
READ A SAMPLE CHAPTER
Blues Improv series sample chapter
About the Author
Jeff Harrington
Sample Lessons on Berklee Shares
Samples from this title are available on Berkleeshares.com, where you can download free music lessons and share them with your friends.
Also by Jeff Harrington