Book
HL #50448051
ISBN 0-87639-054-8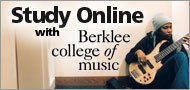 Lyric Writing: Tools and Strategies
Lyric Writing: Tools and Strategies
Generate more and better ideas. Express them in compelling and original ways.
Commercial Songwriting Techniques
Commercial Songwriting Techniques
Learn to write for commercial success by reproducing the time-tested characteristics of hit songs while maintaining your own songwriting style.
Songwriting Workshop: Melody
Songwriting: Melody
Learn to construct strong, expressive melodies that your audiences will remember.

Berklee In the Pocket: Essential Songwriter
by Jonathan Feist, Jimmy Kachulis
available from Amazon.com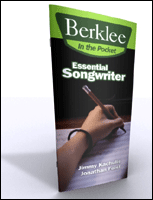 Craft great songs and become a better songwriter.
The Berklee In the Pocket Essential Songwriter is an accesible reference guide that will quickly lead songwriters to ideas that are at the heart of countless hit songs. The tips and strategies jam-packed into this concise guide will help you tackle writer's block and gain fresh insight into the songwriting process.
Features include:
The 17 chord progressions that are at the heart of the most popular hit songs
Guitar charts and keyboard chords showing how to play progression in all 12 keys
Tips to customize essential chord progressions to suit your own songs
Contact info for businesses and organizations most important to the working songwriter
About the Authors
Jimmy Kachulis
Jonathan Feist
Sample Lessons on Berklee Shares
Samples from this title are available on Berkleeshares.com, where you can download free music lessons and share them with your friends.
Also by Jonathan Feist
Also by Jimmy Kachulis