Complete Guide to Remixing: Produce Professional Dance-Floor Hits on Your Home Computer
by Erik Hawkins
available from Amazon.com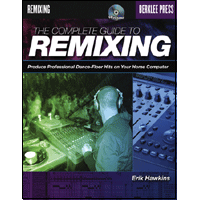 There are remixed versions of songs available today from just about any musical genre. Have you ever wondered how you can add your own personal style to your favorite songs? The Complete Guide to Remixing is a comprehensive handbook of the history, technology, craft, and art of remixing.
Inside you'll learn:
What software and hardware you need to set up the ultimate new music production studio.
Tips on how to use many of the standard software programs to create professional remix effects.
Tools and production techniques used in today's top dance remixes
How to locate and legally remix tracks from major and independent label recording artists.
Tips from the industry's best remix artists and DJs, including BT, Dave Aude, Deepsky, and Thunderpuss.
The included audio CD features over 50 tracks of remixing examples, including arrangements in progress and completed productions. Hear for yourself the amazing production techniques described in the book. Whenever there is a CD track that accompanies an example in the book, you'll be directed to the specific track.
About the Author
Erik Hawkins is a musician, producer, remixer, and author. He has written for many of the top industry publications including Remix, Mix, Electronic Musician, EQ, and Keyboard magazines. He is also the author of Studio-in-a-Box.
BUZZ
"Thank god there's finally a book that can answer the plethora of questions I get asked on a daily basis"
- Dave Aude, DJ and remixer who has remixed for Paul Oakenfeld, Barenaked Ladies, Sting, and Annie Lennox, among others
"This text should be mandatory for anyone who is seriously looking to getinto the remix game or step up their skills as an electronic music producer. Erik is able to draw on both a vast knowledge of high-end production techniques and the street-level aesthetics that have come to define the art of remixing."
- Robert Hanson, Technical Editor, Remix Magazine
"Pros and novices alike will benefit from this hands-on guide to the art of electronic music production. Erik Hawkins explains production techniques and tricks culled from years of experience, that can help anyone take their remix projects to the next level."
-Sarah Jones, Senior Editor, Mix magazine
"Definitely a must for the reader ready to make the jump into the professional realm of the remix world."
- Ralph Falcon, Murk
Also by Erik Hawkins