Book/CD
HL #50448021
ISBN 0876390165


A Modern Method for Guitar, Volume 2
by William Leavitt
available from Amazon.com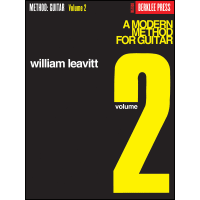 Once you've mastered the fundamentals from Volume 1, Volume 2 continues the study of melody, scales, arpeggios, and chords, covering the entire fingerboard. Written for intermediate-level guitarists, this volume addresses intervals, chord voicings, improvisation, and contains special sections on rhythm-guitar techniques. Also available is a cassette that features play along duets, recorded separately, so that students can play along.
Play-along CD included
BUZZ
"These books will always feature in my "all time best" list. All three books should be in every guitarist's bookshelf - in my case they became a musical bible that I will surely use my whole life. To me this is the best overall guitar method I have come across."
-iBreatheMusic.com
Also by William Leavitt