Turntable Technique: The Art of the DJ (2nd Edition)
by Stephen Webber
available from Amazon.com

Learn to play the turntable like your favorite DJs and create your own style!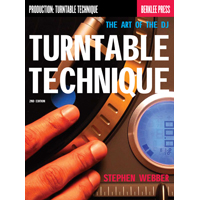 This essential guidebook and companion two-record set teach you to play the turntable as a musical instrument. Use this first-ever turntable method to master scratch techniques and tricks quickly and effectively!
Step-by-step instructions on:
Scratching
Beat Matching
Mixing
The Transformer
The Crab
Crossfader Technique
Cutting
Stabs
Extending Breaks
Reading Music
Book includes:
Photographs and musical exercises
Tips on gear setup for scratch mixing like the pros
A history of DJing and hip-hop culture
The most effective crab exercises ever devised
Innovative scratch notation that will teach you to read music as you learn essential techniques
Featuring interviews with top DJs including:
DJ Swamp (Beck)
Mix Master Mike (Beastie Boys)
DJ Qbert (Invisibl Skratch Piklz)
DJ Kuttin Kandi (5th Platoon/Anomalies)
DJ A-Trak
DJ Craze
The companion records provide beats, drum samples and skipless scratch material for DJ/turntablists of any level. Using both copies, you'll learn to beat match and mix two separate tracks, and create your own remixes. The exclusive extended "ahhhh" track and skipless samples make mastering scratch techniques easier than ever!
"I've prayed for the day a book like this would come out, and it's finally here. Now I'll pray for a Lamborghini!"
—DJ Qbert, Invisibl Skratch Piklz
"Excellent text, the first of its kind! A historically and technically accurate textbook for DJs. A strong vehicle toward the DJ element of hip-hop culture being accepted in the way other more traditional music genres are accepted."
—Christie Z-Pabon, U.S. Events Coordinator, DMC
"Berklee Press offers text to spin by. As one of the few comprehensive packages describing turntablism as an art, this set breaks new ground, particularly with its hands-on approach to teaching scratch technique and proposal of a scratch-notation system. Definitely a good place to start if you have recently picked up a pair of decks and a mixer."
—Remix Magazine
"This comprehensive how-to kit provides the basics for aspiring DJs. Boston's esteemed Berklee College of Music and professor Stephen Webber have come to your rescue, putting together a product that takes you by the hand and gently makes sense of it all."
—Urb Magazine
"Anyone familiar with Berklee Press knows the quality and user-friendliness of their material. Turntable Technique succeeds as both a primer for playing the turntable as a musical instrument and as an introduction to music theory for DJs with little formal music education."
—Gig Magazine
"Turntable Technique is a great tool for beginning and advanced spinners."
—Source Magazine
Also by Stephen Webber