Book
HL #50448058
ISBN 0-87639-062-9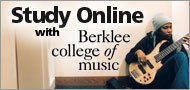 Music Publishing 101
Music Publishing 101
Create and operate your own publishing company, and learn how to effectively promote and place your songs into income-generating opportunities in this 12 week online course.
Music Business 101
Music Business 101
Gain a broad overview of the music business and learn how the various segments of the industry operate on a day-to-day basis.
Legal Aspects of the Music Industry
Legal Aspects of the Music Industry
Build your music career with an understanding of the legal issues that are of special concern to musicians and songwriters.

Berklee In the Pocket: Music Publishing 101
by George Howard
available from Amazon.com

Get Your Songs Published and Start Earning Royalties!
The Berklee In the Pocket Music Publishing 101 is a handy primer and quick reference guide to help you around the many obstacles of the shifting music industry and the vital importance publishing plays to help you make money from your music. Learn how to:
Exploit all facets of publishing revenue
Take advantage of all royalty streams: Performance, Mechanical, Printed Music
Gain exposure and income from movie and TV "synchs"
Legally protect your songs with copyrights
Music Publishing 101 also includes a glossary of music publishing and copyright terms as well as music organizations for further research.
About the Authors
Producer and musician George Howard founded his first independent label, Slow River Records, in 1993. In 1999, he was made president of Rykodisc and was fortunate to work with a diverse roster of artists and artist catalogs, including Kelly Willis, Robert Cray, Medeski, Martin & Wood, Morphine, Pork Tornado, Josh Rouse, Bill Hicks, Richard Buckner, the Tom Tom Club, Catie Curtis, Future Bible Heroes, Sophie B. Hawkins, and the Slip, among others.
Jonathan Feist is the Senior Writer/Editor of Berklee Press. He has edited over fifty books, including the Berklee Practice Method and Instant series. Jonathan is co-author of Essential Songwriter. He holds a bachelor's and master's degree from New England Conservatory, and teaches online courses in music at Berkleemusic.com.
Sample Lessons on Berklee Shares
Samples from this title are available on Berkleeshares.com, where you can download free music lessons and share them with your friends.
Also by George Howard