Finale: An Easy Guide to Music Notation, Third Edition
by Thomas E. Rudolph, Vincent A. Leonard, Jr.
available from Amazon.com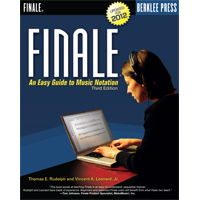 Everything you want to know about music notation with Finale 2012. Master Finale step-by-step with the most complete how-to guide available. Designed for both novice and experienced users, this is your detailed resource to fully understanding and applying all of Finale's remarkable capabilities.
Easy-to-follow instructions to help you:
* Create publisher-quality music notation * Learn to use the tools of Finale while writing your own music and arrangements * Get started immediately with hundreds of professional templates, partially completed notation files, and libraries available on the companion Web site * Print transposed parts from scores automatically * Write standard notation, guitar tablature, drum set parts, and more with this comprehensive hands-on tutorial
Teachers:
* Create warm-up and practice exercises * Write your own compositions, arrangements, and method books * Simplify parts for students
FINALEBOOK.COM
Tutorial Files
Samples of partially completed and finished music notation files for each of the hundreds of hands-on exercises in the book
Libraries of articulations and dynamics
Additional chapters
Professional Templates: Choral, Concert Band, Jazz Ensemble, Marching Band, Orchestra, Single Line and Grand Staff, Pit and Show, and Sketch and Utilities templates including a Cue Sheet for radio and TV
"This book excels at teaching Finale in an easy-to-understand, sequential manner. Rudolph and Leonard have loads of experience. Beginners and seasoned Finale users will benefit from what these two teach."
—Tom Johnson, Finale Product Specialist, MakeMusic!, Inc.
"This book presents a comprehensive, easy-to-follow tutorial and reference that is sure to help either the novice or advanced user get the most out of Finale."
—Sam Reese, Associate Professor of Music Education, University of Illinois, co-author of Strategies for Teaching: Technology
"Vince Leonard is one of the most knowledgeable music educators I know. Beginning and advanced Finale users alike will benefit greatly from his vast knowledge."
—Peter Nero, conductor, arranger, composer, and master pianist
"As a trainer of music educators, I have used the first edition to teach beginners and advanced users. This new release is filled with tips and hints that will help everyone improve their use of earlier Finale versions and the additional features added in the 2005 version. Educators will find numerous ideas on integrating notation software into their teaching."
—Mike Moniz, MIDISchoolhouse.com
"Easily the most comprehensive book on the most comprehensive piece of music software I've ever seen!"
—Marc Dicciani, Director, School of Music, The University of the Arts; drummer, educator, author, composer
LEARN FINALE ONLINE
Music Notation Using Finale
Learn to write music with Finale, the world's best selling music notation software. Through hands-on lessons and workshops with Berklee Press Editor, Jonathan Feist, you'll master the essential skills needed to create professional-looking music with this versatile notation tool. The course will make it easy to add notes and rests, time and key signatures, clefs, lyrics, chord symbols, articulations, expressions, and staffs to your arrangements and compositions.
Sample Lessons on Berklee Shares
Samples from this title are available on Berkleeshares.com, where you can download free music lessons and share them with your friends.