The Berklee Book of Jazz Harmony
by Tom Hojnacki, Joe Mulholland
available from Amazon.com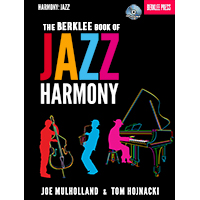 2015 International Book Awards Finalist
Learn the principles of jazz harmony, as taught at Berklee College of Music. This text provides a strong foundation in harmonic principles, supporting further study in jazz composition, arranging, and improvisation. It covers basic chord types and their tensions, with practical demonstrations of how they are used in characteristic jazz contexts and an accompanying recording that lets you hear how they can be applied.
You will learn to:
Use the essential harmonies that create a characteristic jazz sound
Expand basic seventh and sixth chords with available tensions
Understand the theoretical relationship between chords and scales, and how to use that theory in the creative process
Understand the syntax of jazz chord progressions
Create within diatonic, blues, and modal contexts
Construct appropriate chord voicings to strengthen your progressions
Joe Mulholland is the chair and Tom Hojnacki the assistant chair of the harmony department at Berklee College of Music. They have created a wide variety of jazz-oriented educational materials for the Berklee curriculum. Joe has released four CDs of original jazz compositions for quartet and sextet, and authored the Jazz Composition course for Berklee's online school. Tom composes in both jazz and classical idioms and has a number of CDs of orchestral and chamber music to his credit. Tom and Joe are both pianists and are active soloists in a wide variety of ensemble settings, from jazz trio to big band to symphony orchestra.
"When future beings unearth the artifacts of our culture, the Jazz Harmony Book will stand out as the most complete summary of modern diatonic harmony used in jazz and popular music of this era. This book is detailed, sophisticated and surprisingly hip. I especially enjoyed the chapter on the blues as well as how the authors noted the effect of beat placement on harmonic choices. This sentence struck me: "We can hear and feel a chord operating one way when it arrives, but our interpretation of it that chord can also adjust retroactively." The book is replete with similar descriptions giving this complicated subject a life of its own, beyond the usual mathematics and terminology."
—Dave Liebman
"The Jazz Harmony Book is eminently readable and user-friendly. The authors present the principles of jazz harmony and chord scale theory clearly and invitingly."
—Keith Waters, jazz pianist, theorist and author of The Studio Recordings of the Miles Davis Quintet, 1965-68
"Clear, thorough, and practical, The Jazz Harmony Book is indeed a welcome key to understanding not only the richness and order of jazz harmony, but also the many musical styles deeply touched by jazz harmony's broad influence."
—Michael Rendish, Founding Harmony Chair, Berklee College of Music