Turntable Technique: The Art of the DJ (DVD)
by Stephen Webber
available from Amazon.com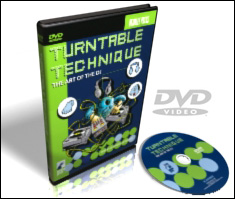 Learn to scratch- even if you're starting from scratch! Learn everything you need to craft your own phat beats and hard-core grooves on the turntabel. This DVD is based on the best-selling method for playing the turntable as a musical instrument. Watch as Emmy Award winning composer, record producer, and Berklee College of Music professor Stephen Webber walks you through:
Equipment Setups
Mixing techniques
Cueing
Beat Matching
Basic Scratching
Dragging
Crabs and Flares
Running time: 2 Hours
Berklee Press DVDs are coded for all regions
About the Author
Stephen Webber
BUZZ
"The first musical method book for aspiring hip-hop DJ's."
-The New York Times
"Whether you're a fresh-faced beginner with no clue how to mount a headshell, or a seasoned veteran looking to expand your repetoire, there's definitely something to be learned here."
IGN.com
"A great tool for beginning and advanced spinners."
-Source magazine
"Takes a serious approach to treating turntablism and DJing as a true musical art form. Thisis definitely a good place to start if you have recently picked up a pair of decks and a mixer."
-Remix magazine
Also by Stephen Webber