Book/DVD-ROM
HL #50448065
ISBN 0-87639-069-6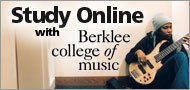 Guitar Chords 101
Guitar Chords 101
Add more dynamics and expression to your playing and gain a greater feel for your instrument by learning Berklee's approach to the construction of chords and chord voicings.

A Modern Method for Guitar Book/DVD-ROM
by William Leavitt, Larry Baione
available from Amazon.com

A legendary method, now bundled in a book and DVD-ROM package...at one low price!
"...THE BEST METHOD EVER WRITTEN FOR GUITAR." - Mike Stern
For Use in Both Windows and Mac Computers. (Not compatible with Mac OS 10.7 or above) For use in computers ONLY, this is not for use in a DVD player.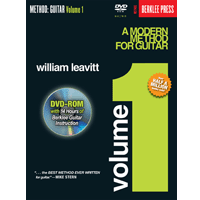 THE BOOK. A Modern Method for Guitar by William Leavitt, is one of the world's most popular guitar methods. It is the basic text for Berklee College of Music's guitar program. It has stood the test of time and earned a vast and loyal following of dedicated guitar students and instructors for over 40 years.
THE DVD-ROM. This DVD-ROM version of this proven method is the most comprehensive guitar method DVD-ROM on the market. The instruction on this DVD-ROM is equivalent to a year's worth of guitar lessons at Berklee College of Music! You will be guided through 14 complete lessons with Larry Baione, Chair of Berklee's Guitar Department.
14 Hours of instruction include on-screen demonstrations, with camera close-ups of both hands, as well as interactive duets and play-along segments so you can "sit in" with your instructor.
Watch the Trailer
Preview this DVD by watching the trailer in the QuickTime format.
You will learn essential skills for playing lead and rhythm guitar, including:
scales
chord forms
accompaniment skills
guitar technique
voice-leading approaches
reading music notation
BIO
Larry Baione has been Chair of the Berklee College of Music Guitar Department since 1990 and a faculty member since 1974. He studied with William Leavitt while Leavitt was developing the Modern Method for Guitar, and also studied with Bucky Pizzarelli, Jim Hall, and other legendary players. Baione has taught students using this method for thirty years. He is the author of the Berklee Practice Method for Guitar. Baione continues to record, perform and give clinics throughout the world.
Also by Larry Baione
Also by William Leavitt