After years of working with our existing system to improve the overall experience and add new features, and after years of hearing from students and instructors, the Berklee Online staff realized that we had a lot of great ideas about how to make online learning better. We brainstormed lists of innovations and improvements, and quickly realized that in order to take Berklee Online to the next level, we needed a better platform for our courses.
We spent months investigating all of the most popular online course systems we could find, and while they all have the same basic features (course content, discussions, assignments, you know the drill) we were, let's say, unimpressed with how most of them looked, and we wanted to be sure that we could create our own new features and capabilities to push the boundaries of online learning. We decided to invest our time and energy into designing a new web experience of our own, built on top of one of the leading providers of learning management systems, Canvas. By partnering with Canvas we are able to focus on making the experience of learning music online the best we can, with our team of programmers and designers focused on the features that impact Berklee Online's students the most. We call it BOCCE, the Berklee Online & Canvas Course Experience.


Luke Stevens takes you on a guided tour of BOCCE
In May of 2016, we had the opportunity to present our new system to Ray Schroeder, the Director of the UPCEA Center for Online Leadership. Here's what he had to say:
"Your choice of the Canvas backend is consistent with most of the rest of the larger forward-thinking online institutions who are seeking to leverage data collection and analytics to advance marketing, effective advising, and student success. You will reap great benefits from this upgrade alone. And the re-worked front-end is nothing short of revolutionary!"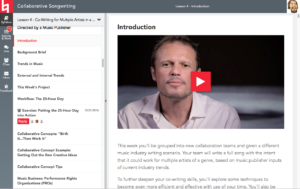 As we've been creating BOCCE we've been regularly talking with teachers, students, and staff for feedback, making changes and rethinking things as we go. We first presented our early designs and ideas at the inaugural Berklee Onsite conference in June of 2015. We started beta testing BOCCE during the Fall term by rolling it out to students in five courses and were able to make many improvements based on their feedback. We're very excited to share it with all students starting in the new term, but we're not done yet! We'll continue to take feedback from all of you to help us revisit, refine, and rethink online learning together. We have a lot of great ideas to come that we hope will help you connect with your instructor and fellow students in new, exciting ways.
We hope you enjoy learning with BOCCE as much as we've enjoyed creating it. We can't wait to hear from you!

Want to experience BOCCE for yourself? Enroll now for the next term!