Songwriting: Essential Guide to Lyric Form and Structure
by Pat Pattison
available from Amazon.com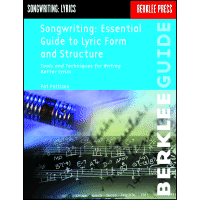 Step-by-Step Guide to Writing Better Lyrics
Pat Pattison, a veteran songwriter, has taught many of Berklee College of Music's best and brightest how to write truly great lyrics.
This book will help you handle your lyric structures more effectively. Showing you how to take control of your lyrics by honing your creative process, this essential guidebook reveals the secrets of how to become a naturally great lyricist. By studying examples of famous songs, you will learn to integrate the techniques of the pros into your own lyric-writing craft.
The exercises and tools in this book will help you eliminate some trial and error and start writing better lyrics more quickly and efficiently.
Features:
Write more interesting lyrics and songs
Integrate spontaneous soloing as part of your expressive vocabulary
Strategically manage the timing and placement of your most important ideas
Enjoy more creative possibilities than you've experienced before.
About the Author
Pat Pattison
Pat Pattison has been teaching lyric writing and poetry at Berklee College of Music since 1975. He played a central role in developing Berklee's unique songwriting major, the first complete songwriting degree offered anywhere. Doctoral work in philosophy at Indiana University and a Master of Arts in Literary Criticism gave him the knowledge and inspiration necessary to concentrate on the art of lyric writing. In addition to his work for television and film, as well as numerous clinics and workshops, Pat writes monthly articles for Home and Studio Recording magazine.
ENROLL IN AN ONLINE SONGWRITING CLASS WITH AUTHOR PAT PATTISON AT BERKLEEMUSIC.COM!
Lyric Writing - Berkleemusic.com
Sample Lessons on Berklee Shares
Samples from this title are available on Berkleeshares.com, where you can download free music lessons and share them with your friends.
Also by Pat Pattison