Join the Berklee Community
When you join Berklee's Division of Pre-College, Online, and Professional Programs, you also become a member of Berklee's worldwide community, which also includes the Berklee College of Music campus, the Boston Conservatory at Berklee, Berklee's Valencia Campus, and BerkleeNYC. While our day-to-day operations focus on Berklee Online, Berklee Summer Programs, and Berklee Press you become part of a larger network of Berklee colleagues.
Paid Time Off
Berklee offers a generous paid time off (PTO) benefit for eligible employees to enjoy compensated periods of rest and relaxation free from work, time off for illness, and time off to take care of personal matters, in addition to eight calendar holidays, and a winter break for all employees.
Insurance
Berklee offers competitive coverage on top-tier medical, dental, and life insurance plans.
Career Development
Berklee's professional development programs and tuition benefits can help you obtain, maintain, and improve job-related knowledge and skills.
Berklee Online Courses
Berklee Online offers more than 250+ courses in multiple interest areas that you'll be able to enroll in for free (a $1,515 value per course). You can also take multiple courses to earn a free professional certificate.
Campus Tuition Reimbursement
Additional arrangements include off-campus tuition reimbursement and an on-campus tuition discount/waiver.
Retirement Plans
Our retirement plans provide you the opportunity to invest for the future through payroll deduction contributions. Your contributions are voluntary, and are invested in accounts approved by the college and administered by Transamerica Retirement Solutions.
Commuter Benefits
Each month, Berklee will pay $75 toward the cost of your commuter transit passes and tickets.
Gym Reimbursement
Berklee faculty and staff can receive discounted memberships at YMCA of Greater Boston and Healthworks Fitness Centers for Women.
Discounted Music Gear
Get 10% off Guitar Center items with a Berklee ID. Berklee staff and faculty also get 10% off merchandise, excluding textbooks and software, with proof of their Berklee ID.
Museum Passes
Museum of Fine Arts Boston (MFA)
- Free General Admission entry with Berklee ID for students, faculty, and staff (no guests).
Institute of Contemporary Art Boston (ICA)
- Free entry with university promo code BRK2022ICA. Reserve
online
(Opens in a new window), and then show Berklee ID at entry for students, faculty and staff (no guests).
Berklee Campus Resources
Gain access to Berklee ensemble rooms, Berklee Library and Media Resources, and free tickets for events held at the Berklee Performance Center.
Help Bring the Best of Berklee to Students All Over the World
Berklee's division of Pre-College, Online, and Professional Programs (POPP) is at the forefront of contemporary music education worldwide, serving more than 3.5 million students to date. Currently comprising Berklee Online, Berklee Summer Programs, and Berklee Press, POPP is shaping the key players of tomorrow's music industry through innovative study in performance, production, business, theater, dance, and more. Students emerge from programs with a professional portfolio, practical job skills, and a strong sense of community. Through internationally acclaimed online courses and degree programs, intensive summer programs and workshops, textbooks that are the definitive source on their subjects, and emerging K-12 offerings, POPP brings the best of Berklee to students all over the world, no matter their ability, background, or level of experience.
Our Culture
Berklee's division of Pre-College, Online, and Professional Programs strives to create a work environment that fosters creativity, collaboration, and innovation, while sustaining our reputation as a great place to learn, teach, and work. We pride ourselves on having an equal and inclusive environment through our services, policies, practices, and initiatives.
Our Commitment to Diversity and Inclusion
At Berklee, we aim to integrate the variety of cultural values and perspectives into what we do at all levels, through policy development, resources and education, and sponsorship of initiatives for staff, faculty, and students. These strategies are designed to nurture a spirit of respect for, openness to, and awareness of the spectrum of values and backgrounds that enrich our environment.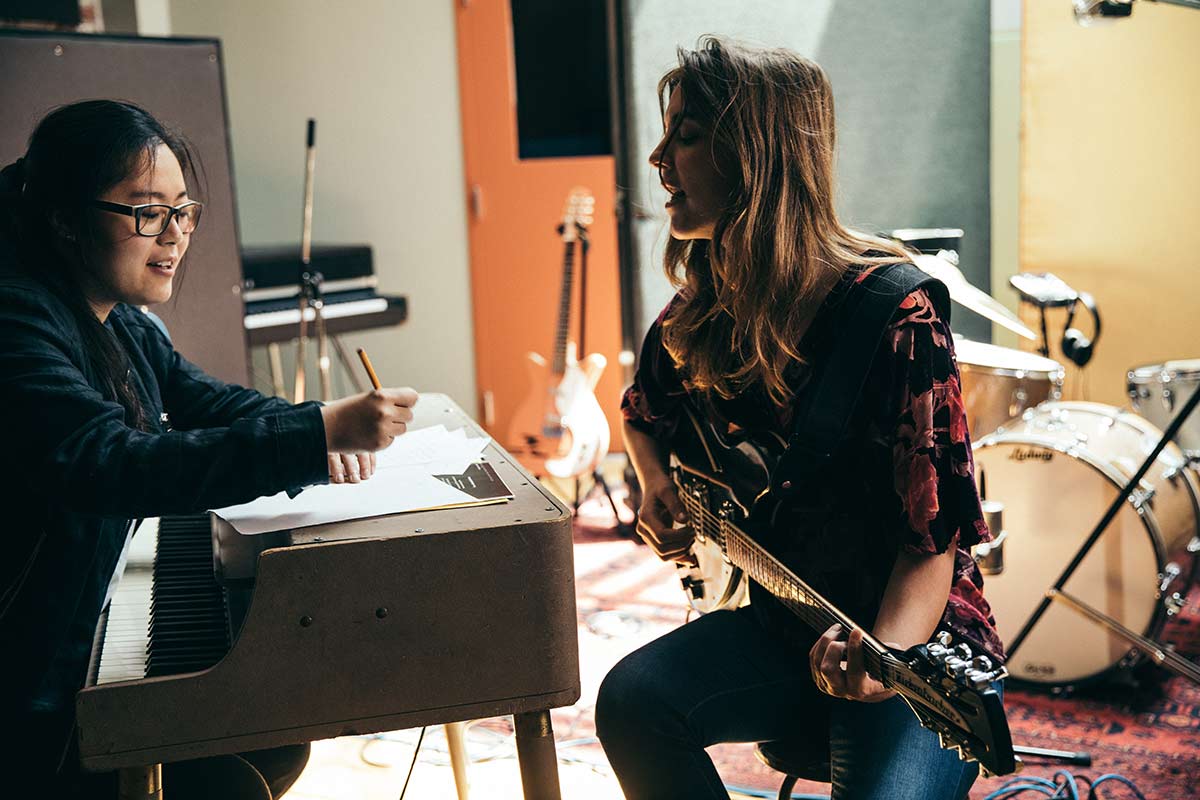 Mission Mindful
We Love What We Do for Our Students
Everyone who works at Berklee is either a Berklee alum, musician, or an avid lover of music. This passion contributes to what makes us the best at serving our students.
97% Student Satisfaction Rate
In a recent undergraduate exit survey, Berklee Online received an unprecedented 97% student satisfaction rate. The value of the work we do is reflected in the success and happiness of our students.
If you enjoy working in a creative, mission-driven environment and are looking for an opportunity to become part of a stellar team of professionals, we invite you to apply online today.
Current Openings