Complete Guide to Film Scoring
by Richard Davis
available from Amazon.com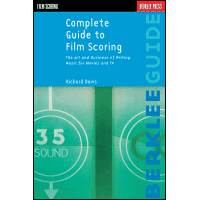 If you've ever wondered how to write music for film or television, The Complete Guide to Film Scoring is a necessary resource. This guide will take you through the film-making process, preparing and recording a score, the history of the field, and the business side of film scoring including contracts, fees, publishing, royalties, and copyrights.
Learn from the career experiences of 19 film-scoring professionals in interviews with composers such as Michael Kamen (Mr. Holland's Opus, Brazil), Alf Clausen (The Simpsons, Naked Gun), Alan Silvestri (Forrest Gump, Contact), Mark Snow (X-Files, Millennium) and Elmer Bernstein (To Kill a Mockingbird, Airplane, Rainmaker).
About the Author
Richard Davis
An Associate Professor at Berklee, Richard Davis is also a composer, orchestrator, record producer, and musician. His film credits include orchestrations and transcriptions for many films including Robin Hood, Prince of Thieves, and The Last Boy Scout.
BUZZ
"Offers fascinating insights into the world of music for film... good for someone who wants to get a broad introduction to the process and business of film scoring."
-Sound on Sound magazine
"Often, when writing a film score I wish I had studied the art sufficiently to avoid reinventing the wheel. This book is a valuable addition to the world of music?interesting, informative and inspiring."
- Michael Kamen ("Mr. Holland's Opus", "Brazil")
"This is a splendidly-constructed reference manual with a winning combination of technical expertise and the human touch of a film composer's life experiences. It will serve as a great motivator for all composers burning for a career in the film industry."
- Alf Clausen, Emmy and Annie winning composer
"I've spent my entire professional life working with composers, from the most talented and successful to those just beginning their career. This guide has captured it all?from the history of film music to modern-day trends, as well as providing invaluable information about the music business."
- Nancy Knutsen, Vice President, Film & Television Repertory, ASCAP
"An insightful, enlightening, and comprehensive resource for anybody interested in pursuing a career as a film composer."
- Doreen Ringer Ross, Assistant Vice President, Film & TV Relations, BMI
"Provides an insight into the art of film scoring music for films in unusually clear and concise language."
- Elmer Bernstein ("To Kill a Mocking Bird", "Airplane", "Rainmaker")
I just finished reading Richard Davis book 'Complete Guide to Film Scoring' . He is so clear in his writing, gave so much fascinating info about this career, and shared so much that I feel very informed. I'm a professional in Music Theater, and was recently offered the chance to score a film. It's a world I haven't lived in and know how different it is from theater. Please let the author know how helpful his book was to me in my success.
-Elaine Davidson
Sample Lessons on Berklee Shares
Samples from this title are available on Berkleeshares.com, where you can download free music lessons and share them with your friends.
Also by Richard Davis