Arranging in the Digital World
by Corey Allen
available from Amazon.com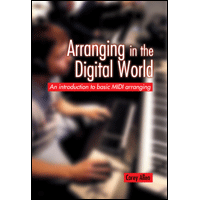 An essential guide for beginner MIDI arrangers who want to create truly inspired, professional-sounding digital arrangements.
Book includes 3 1/2 " MIDI disk with more than 50 sequenced examples
Full of tips and tricks, you will discover techniques for building digital arrangements in a variety of contemporary styles including country, gospel, pop, jazz, rock, Latin, and more.
Teaches basic MIDI, step-by-step sequencing, and production concepts, as well as arranging techniques for a variety of digital instrument sounds, including drum set, congas, timbales, acoustic and electric bass, acoustic and electric guitar, keyboards, strings, vibes, brass, and woodwinds. Make your MIDI sequences and grooves come alive!
This comprehensive guide includes:
An accompanying MIDI disk with more than fifty sequenced examples
Helpful definitions and glossary for the digital arranger
How to develop your own style and instrumentation
How to build an arrangement
Sequencing tips and tricks
Production and MIDI concepts
Step-by-step directions to help you build an arrangement from start to finish.
Click here for supplemental material for this book.
About the Author
Corey Allen
Read a Sample Chapter
Arranging in the Digital World sample chapter
BUZZ
"A Godsend! This book has given me the opportunity to start with no prior knowledge, study with a teacher I respect, and learn at my own pace. It's given me the ABC's to understand technical terms that always baffled me. I'm looking forward to using this book to simplify my composing/orchestrating process, opening the way to creative possibilities."
- Chuck Mangione
"Cory Allen is a highly regarded composer, arranger, and pianist, and he's infused all of his professional knowledge into his new book. It shows how to achieve musical and orchestrally realistic results. It's written with great clarity and is easily understood. No student of professional should be without it."
- Johnny Mandel
"I especially enjoyed the chapter on sequencing techniques. I will recommend this book for my beginning MIDI sequencing classes."
- Tom Rudolph, Ed. D., Director of Music, Haverford Township, PA School District; Board of Directors, Technology Institute for Music Educators (TI:ME).
"I truly wish I had had access to this book when I was first starting out in learning to sequence on MIDI. It would be helpful to any novice in the field."
- Marilyn Davidson, former national president, American Orff-Schulwerk Association