The Contemporary Singer: Elements of Vocal Technique
by Anne Peckham
available from Amazon.com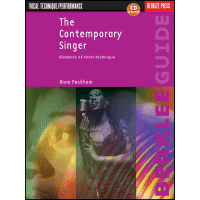 Maximize your vocal potential with this outstanding guide.
This comprehensive guide, based on the curriculum of the Voice Department at Berklee College of Music, is essential for every vocalist, male and female alike.
Proper vocal technique can help prevent injuries, enabling singers at all levels to achieve good vocal health, maximize the potential of their voice, and extend their singing careers. Featured exercises instruct students on the best practices of professional technique, allowing them to gain more technical and expressive command over their instrument.
Features include:
an overview of the singing process
tips for getting started
posture, breathing, and tone
discovering resonance
belting and diction
maintaining vocal health
overcoming stage fright
improving stamina, range, and sound
microphone technique
The companion CD makes this guide an ideal tool for creating a singing course for students of almost any age and gender. Recorded exercises, for all voice ranges and types, allow students to practice the advice and tips discussed in the book. Students can practice technique along with lead sheets for such standard vocal pieces as:
Yesterday
I'm Beginning to See the Light
I Heard It Through the Grapevine
About the Author
Anne Peckham, professor of voice at Berklee, is also a clinician, choral director, and specialist in musical theater."
BUZZ
"After a couple of weeks I found I had added another two whole tones to my range, and that I no longer got a predictably sore throat the next day."
-MusesMuse.com
"Anne Peckham's complete knowledge of voice and clearly focused writing creates a method that delivers quick and positive improvements at any level of singing. An indispensable resource for moving vocal skills to the next level. Terrific work!"
- Livingston Taylor, recording artist, performer
This book will help make things clearer for voice teachers and students who want to improve their voice. I found myself using the techniques discussed before I finished reading the book. It is a great resource for anyone teaching or coaching vocalists!"
- Kevin Mahogany, Warner Bros. recording artist, Advisory Board For Vocal Jazz, International Association of Jazz Educators
"This step-by-step approach with clear explanation of just what the heck is going on in your body when you sing makes for an invaluable, to-the-point guide for developing singers."
- Jeff Thacher, Rockappella
"A virtual user's manual for the voice. This book covers issues of the vocal anatomy and mechanism, tone production, maintenance, and techniques for practice and performance. The CD contributes greatly to the book. I will recommend The Contemporary Singer to all."
- Charles Floyd, pianist, composer, former musical director for Natalie Cole, guest conductor of the Boston Pops
Also by Anne Peckham