Turntable Technique: The Art of the DJ (Book/Record)
by Stephen Webber
available from Amazon.com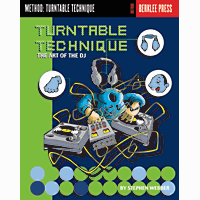 THIS ITEM IS CURRENTLY BACKORDERED
Please click here to view other online vendors that may carry this product.
Learn to play the turntable like your favorite DJs and create your own style! This essential guidebook and companion 2-record set teaches you to play the turntable as a musical instrument. Using this first-ever turntable method, techniques and tricks can be mastered quickly and effectively.
Step-by-step instructions on:
Scratching
Beat Matching
Mixing
The Transformer
The Crab
Crossfader Technique
Cutting
Stabs
Book includes:
Photographs and musical exercises
Tips on how the pros set up their gear for scratch mixing
A history of DJing and hip-hop culture
Featuring interviews with top DJs including:
DJ Swamp (Beck)
MixMaster Mike (Beastie Boys)
DJ QBert (Invisibl Skratch Picklz)
DJ Kuttin Kandi (5th Platoon/Anomolies)
DJ A-Trak (Teenage DMC/ITF World Champion)
DJ Craze (three-time DMC World Champion)
The companion records provide scorching grooves, phat beats, and wicked scratch material for DJs/turntablists of any level. Use two copies to beat match the first track on side one (both at 110.4 bpm) and create your own crossfader remixes. Play along with the scratching exercises on side two.
SIDE ONE 1. ONE! (110.4 bpm funk jam) 2. Techno Miles (110.4 bpm techno-funk groove) 3. Savage Skratch Substance (Outrageous sound effects, sound design, spoken word) 4. Hot White Noise (Perfect for scratching) 5. MassAve Tone (Huge bass tone for fader techniques & scratching)
SIDE TWO 1. Exercises 1-6 (Basic scratch) 2. Exercises 7-13 (Basic scratch w/syncopation) 3. Exercise 14 (Fills) 4. Exercises 15-21 (Fader work out) 5. Exercises 22-26 (Stab) 6. Exercises 27-34 (Scratching w/ continuous 8th notes) 7. Exercises 35-38 (Cutting w/ "one"!) 8. Exercises 39-45 (Crossfader) 9. Exercises 46-49 (2-hands w/ x-fader) 10. Exercises 50-57 (Crab) 11. Exercise 58 (William Tell Skratchature)
About the Author
Stephen Webber
BUZZ
"Webber brings you all the elemental breaks, grooves, sound effects and narration that makes instructional records such a wonderfully goofy medium....a collector's item for the crates and those documenting DJ history and culture."
-XLR8R
"The first musical method book for aspiring hip-hop DJ's."
-The New York Times
"Whether you're a fresh-faced beginner with no clue how to mount a headshell, or a seasoned veteran looking to expand your repetoire, there's definitely something to be learned here."
IGN.com
" A great tool for beginning and advanced spinners."
-Source magazine
"Takes a serious approach to treating turntablism and DJing as a true musical art form. Thisis definitely a good place to start if you have recently picked up a pair of decks and a mixer."
-Remix magazine
"Succeeds as both a primer for playing the turntable as a musical instrument and as an introduction to music theory for DJs with little formal music education."
Gig magazine
"I've prayed for the day a book like this would come out, and it's finally here."
- QBert, Invisibl Skratch Picklz
Sample Lessons on Berklee Shares
Samples from this title are available on Berkleeshares.com, where you can download free music lessons and share them with your friends.
Also by Stephen Webber