Instant Bass
by Danny Morris
available from Amazon.com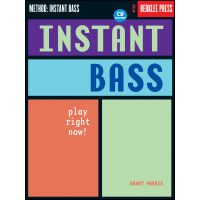 Learn to play the bass instantly! This revolutionary new book will have you jammin' right away. No matter what your level of musical knowledge, this is a simple, fun method for students of all ages who want to start playing bass. Pop in the accompanying CD and jam with the band in a variety of musical styles, including rock, blues, country, and funk.
Features include:
Simple lessons to get you playing instantly
Play-along CD so you can listen and jam
Dozens of tunes in different styles
Solid bass lines you'll use in these tunes and beyond
Tips on playing and locking in with a drummer
Enough technique and theory to get you playing, but not too much!
Strategies to help you understand the bass and develop your own bass lines
Whether you are learning to play bass as your first instrument or adding bass to your line-up, this Berklee method is the fastest way to learn bass. It will set you well on your way to becoming a highly skilled player.
About the Author
Danny Morris
Danny Morris has been an active bass player and teacher for twenty-five years. He has played with the James Montgomery Band, the Jon Pousette-Dart Band, Bo Diddley, and Odetta, among others, and is currently with New England's premier Calypso band, Calypso Hurricane. As associate professor of bass at Berklee College of Music, he has taught thousands of students who have gone on to play with Duran Duran, Dweezil Zappa, Dave Mason, and many other of today's hottest bands.
BUZZ
"This is perhaps the absolute best beginner play-along around."
- Bass Guitar Magazine
"If anyone can teach you to play bass instantly, it's Danny Morris. As a student of Danny's, I've always been impressed by his ability to communicate ideas clearly and make learning fun. There are plenty of tasty riffs and funky grooves that beginners can learn. Jamming with the cd is a blast! Anyone can learn to play bass quickly and competently with this book."
- Wes Wehmiller, Bassist, Duran Duran
"With over twenty-five years experience as a player and instructor, Danny Morris is arguably one of the most experienced and prepared teachers to present this kind of material for the beginning bassist. Combining a practical, hands-on approach and an analytical overview, everything he talks about will become a permanent part of your vocabulary as a musician forever!"
- Peter Alan, Bassist, Dave Mason
"Simply amazing? One of the best introductory bass books I have ever seen. Instant Bass will give you instant results. You'll start jamming immediately and want to continue practicing to become a great bass player."
- Brad Hallen, Bassist, Susan Tedeschi
"Easy and efficient. Perfect for all ages. This no-nonsense approach is extremely valuable for building a strong music foundation."
- Tom Appleman, Bassist, Mule Crossing
Also by Danny Morris