Book/CD
HL #50449426
ISBN 0-634006495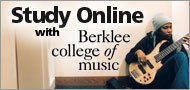 Guitar Scales 101
Guitar Scales 101
Develop your technique and gain a firm understanding of the major, minor, Pentatonic, Dorian, Mixolydian and blues scales in this 6-week online course.
Guitar Scales 101
Guitar Scales 101
Organize the guitar fretboard, develop your technique, and gain a firm understanding of the pentatonic, blues, major, melodic minor, and harmonic minor scales and their modes.

Berklee Practice Method - Guitar
by Larry Baione
available from Amazon.com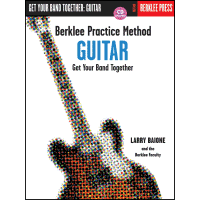 The first-ever method that teaches you how to play in a rock band. Improve your improvisation, timing, technique, and reading ability, and master your role in the groove. Become the great guitar player that everyone wants to have in their band.
Lessons throughout this book guide you through chord voicings and changes, scales, improvisation techniques, rhythm accompaniments, tablature, and traditional notation. Daily practice routines are designed for practicing by yourself or with other musicians. Developed by the faculty of Berklee College of Music, the accompanying CD features outstanding Berklee players and covers a variety of styles including rock, funk, jazz, blues, swing, and bossa nova.
Topics include:
learning by ear
theory and technique
rhythmic interpretation
improvisation
comping
reading
song form
interpreting lead sheets
This series coordinates methods for many different instruments, and all are based on the same tunes, in the same keys. If you know a bassist, drummer, keyboardist, vocalist, horn player, etc., have them pick up the Berklee Practice Method for their own instrument, and jam together!
About the Author
Larry Baione
BUZZ
"The Practice Method rules! It's a great way to learn riffs, latch onto some basic song structures, and see how tunes are put together. The melodies and the riffs are cool, and you'll work them up in just a couple of run-throughs. This lets you focus on playing in a band, and on creating your own interpretations‹heavy rock, jazz, or whatever you want."
- Joe Stump, Shred Guitar Master, Assistant Professor, Berklee College of Music
"An effective way for you to read charts and play along with other musicians in a real-time playing environment. The book will keep your nose in the music and the CD will keep your ears open to the goings-on of the other musicians who are playing. Have fun, practice regularly, and enjoy this fine book."
- Jeff Berlin
"True to the tradition of Berklee College of Music to thoroughly train students to be professional musicians, this method is a great workout. An excellent practice book covering many styles, which will help you learn the necessities of working in the rhythm section creatively."
- Carol Kaye, Bass recording legend, Pioneer in authoring tutors for the electric bass, Educator at the Henry Mancini Institute-UCLA
"A thorough and practical guide with an emphasis on presenting information that will inspire and enable you to begin making music with others right away. All the basics are covered, from a clear presentation of music structure and theory to the dissection and analysis of eight distinct musical styles. An invaluable aid for those interested in filling in the gaps in their knowledge and gaining the tools to help them continue to learn and grow."
- Russell Ferrante, Founding member of Yellowjackets
"Teachers are invaluable, practicing by yourself is critical, but performing in a band is the most valuable experience of all. That's what is so special about this series: it gives you the theory you need, but also prepares you to play in a band. This series will help you master the skills you need to become a creative, expressive, and supportive musician that anyone would want to have in their band."
- Gary Burton, Executive Vice President, Berklee College of Music
Also by Larry Baione