Book/CD
HL #50449478
ISBN 0-634014323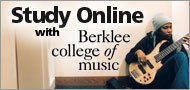 Rock Bass
Rock Bass
Gain the foundation, technique, and vocabulary necessary to construct and improvise bass lines in a variety of rock and blues-based music styles.
Bass Performance 101
Bass Performance 101
Study the music of famous electric and acoustic bass players, and learn to create and perform your own unique bass lines in a variety of different styles.

Rock Bass Lines
by Joe Santerre
available from Amazon.com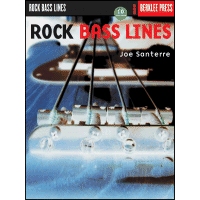 Learn the art of creating a solid rock bass groove.
Whether you are an aspiring or seasoned bass player, this workshop will help you learn many of the bass lines and styles found in your favorite rock tunes, and inspire you to experiment with your own creations.
Features include:
Lessons covering eight different rock styles
Play-along CD so you can listen and jam
Solid rock riffs and lines you'll use in these grooves and beyond
Exercises to help you develop your own rock bass lines
Strategies for locking in with the drummer, and making your line groove
Tips for reading chord symbols
Tablature and traditional notation
Suggested listening of select recordings by master rock bassists
Each lesson in Rock Bass Lines contains several practice exercises, a rock song using the exercises, and play-along tracks on the accompanying CD. Also included in each lesson is a section for you to write out your own bass grooves.
Groove with attitude and confidence. Take your bass playing to the next level with Rock Bass Lines.
About the Author
Joe Santerre
Joe Santerre has performed, taught, and lectured internationally as an expert in rock bass techniques. Among his former students are Bryan Beller (Dweezil Zappa, Mike Keneally), Chris Chaney (Alanis Morissette, Robben Ford), and John DeServio (Vinnie Moore, Lita Ford). Joe has performed with such luminaries as Tom Coster (Vital Information, Santana), John Petrucci (Dream Theater), Vinnie Moore, Steve Morse (Dixie Dregs, Kansas), Blues Saraceno, Andy Timmons, and many others. He is currently the bassist for the Jon Finn Group with bass credits on Wicked and Don't Look So Serious. He also writes for Bass Frontiers magazine and teaches at Berklee College of Music. His recent solo album, The Scenic Route, features his own compositions and arrangements.
BUZZ
"I was suffering from a case of bass book burnout until I checked out Rock Bass Lines. Right away I found stuff that I wanted to pick up and learn. This book is packed solid with accessible examples of all the feels and licks that bass players need for the new multi-style millennium. The book and CD are laid out so it's easy to find and access that particular feel you've been looking for. Also, if you've been spending too much time above the twelfth fret, take a look at this stuff and get back down to grooveland! You'll never want to leave!"
- Tom Hamilton, Bassist, Aerosmith
"A helpful guide covering analytical as well as intuitive practice. A well thought out book that will improve important aspects of one's bass playing when combined with steady practice."
- John Myung, Bassist, Dream Theater
Also by Joe Santerre