Instant Guitar
by Tomo Fujita
available from Amazon.com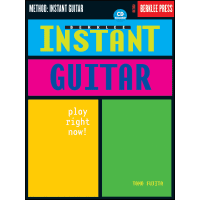 Learn to play the guitar instantly!
This revolutionary new book will have you jammin' right away. No matter what your level of musical knowledge, this is a simple fun method for students of all ages who want to start playing the guitar. Pop in the accompanying CD and jam with the band in a variety of musical styles, including rock, blues, country, and funk.
Features include:
Simple lessons to get you playing instantly
Play-along CD so you can listen and jam
Tons of tunes in different styles including rock, funk, and R&B
Chords you'll use in these tunes and beyond
Tips on playing and locking in with a rhythm section
Enough technique and theory to get you playing, but not too much!
Strategies to help you understand the guitar and develop your own music
Whether you are learning to play the guitar as your first instrument or adding it to your line-up, this Berklee method is the fastest way to learn the guitar. It will set you well on your way to becoming a highly skilled player.
About the Author
Tomo Fujita
Tomo Fujita earned his degree from Berklee College of Music, where he has been teaching since 1993. He has developed a great reputation as a master private teacher, as well as a crowd-pleasing performer who has shared the stage with the likes of Phil Collins, bassist Darryl Jones (Miles Davis, Sting, Rolling Stones), Ronnie Earl, and Mighty Sam McClain, just to name a few. He has also enjoyed a stint in the Tony Award and Pulitzer Prize winning musical RENT. Tomo tours and teaches clinics annually throughout Japan and is the author of the instructional video, Accelerate Your Guitar Playing (Berklee Press, 2001).
BUZZ
"A handy start-up kit for beginners looking to unleash their inner rock stars. Just add fingers and strings, and voila-instant tasty riffs!"
- Chris O'Byrne, Associate Editor, Guitar One magazine
"This book breaks down guitar playing to the absolute simplest form and gives you the gratification of actually playing music from day one. With this totally logical approach, even people who feel they 'don't have the knack' for playing guitar will find themselves playing and actually understanding in a surprisingly short time."
- Marty Friedman, Solo Artist, Former Lead Guitarist of Megadeth
"Tomo Fujita combines the harmonic complexity of a jazz player with the groove of a funkmeister, all played with the soul of an old bluesman. With Instant Guitar, he translates this knowledge into an easy-to-understand form and creates an instructional guide that will appeal to beginning guitarists. I highly recommend this book."
- Joe Stump, Shred Guitar Master, Assistant Professor, Berklee College of Music
"Incredible! To be able to privately jam with a tight, smokin' band right from the start is truly phenomenal. I wish this book had been around when I first picked up the guitar."
- Scotty Johnson, Guitarist (Paul Gilbert), Assistant Professor, Berklee College of Music
"There are plenty of riffs and funky grooves that beginners can learn. Jamming with the CD is a blast! Anyone can learn to play quickly and competently with this book!"
- Wes Wehmiller, Duran Duran