Instant Keyboard
by Paul Schmeling, Dave Limina
available from Amazon.com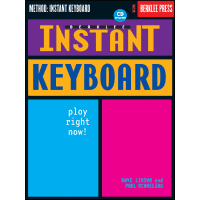 Learn to play the keyboard instantly!
This revolutionary new book will have you jammin' right away. No matter what your level of musical knowledge, this is a simple, fun method for students of all ages who want to start playing the keyboard. Pop in the accompanying CD and jam with the band in a variety of musical styles, including rock, blues, country, and funk.
Features include:
Simple lessons to get you playing instantly
Play-along CD so you can listen and jam
Chords you'll use in these tunes and beyond
Tips on playing and locking in with a bass player and rhythm section
Enough technique and theory to get you playing, but not too much!
Strategies to help you understand the keyboard and develop your own music
Whether you are learning to play the keyboard as your first instrument or adding it to your line-up, this Berklee method is the fastest way to learn the keyboard. It will set you well on your way to becoming a highly skilled player.
About the Authors
Paul Schmeling
Paul Schmeling, Chair Emeritus of the Piano Department at Berklee College of Music, has instructed many young star piano players. As a professional pianist, Paul has performed with innumerable jazz greats, including George Coleman, Frank Foster, Art Farmer, Eddie Jefferson, and Herb Pomeroy, to name a few. He is the co-author of the Berklee Practice Method: Keyboard (Berklee Press, 2001).
Dave Limina
Dave Limina, an Assistant Professor in the Piano Department at Berklee College of Music, has been a full-time professional keyboardist for over fifteen years. Dave has performed with jazz musicians such as Ernie Watts and Mark Murphy, blues artists including B.B. King and Mighty Sam McClain, and pop/rock musicians Steve Forbert, Chuck Berry, and the Courage Brothers, among others. Dave is the author of an instructional video, Accelerate your Keyboard Playing (Rittor Music, 2001) and a forthcoming guide to Hammond Organ techniques (Berklee Press, 2002).
BUZZ
"Instant Keyboard will have you playing any keyboard quickly! Dave Limina and Paul Schmeling's instructions are clear and direct, and they offer an open approach that allows for creative input from the student. The accompanying CD provides the background-all you have to do is play. Instant Keyboard is fun, easy, and informative!
- Armen Donelian, Jazz Pianist/Composer
"This is a valuable keyboard book. Its clarity and straight forward presentation along with the groovin' CD is sure to guarantee that a great deal of musical fun is going to be had before you realize you've learned something. This will serve as a solid foundation for further study."
- Charles Austin, Head of Piano Department, Grant MacEwan College, Alberta, Canada
"Instant Keyboard provides an excellent method for getting into the fast lane of keyboard playing. By listening to and playing along with the included CD, you can quickly find your groove with the seasoned rhythm section. I look forward to using this method."
- Domenic Cicchetti, Director of Academic Relations, Technics Musical Instruments, Keyboard Player (Frank Sinatra, Meatloaf, Liza Minelli, Blood, Sweat & Tears)
"Simply amazing-one of the best introductory books I have ever seen. These lessons will give you instant results. You'll start jamming immediately and want to continue practicing to become a great player."
- Brad Hallen, Susan Tedeschi Band
Sample Lessons on Berklee Shares
Samples from this title are available on Berkleeshares.com, where you can download free music lessons and share them with your friends.
Also by Dave Limina
Also by Paul Schmeling