The Bass Player's Handbook
by Greg Mooter
available from Amazon.com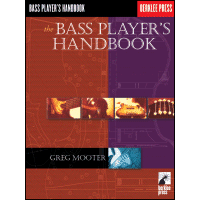 Essential reading for every bass player!
The Bass Player's Handbook provides bassists a complete guide to understanding the origin and workings of their instruments. Greg Mooter outlines fundamental concepts of proper fingering, tone production, and good practice habits. You will learn how to care for your bass properly and maintain good physical health as a musician.
Packed with essential techniques, including how to:
Customize your instrument for your own body, style, and sound
Understand fingerboard theory for 4-, 5-, and 6-stringed instruments, including standard and advanced techniques for both hands
Perform repairs, fix cracks, adjust the soundpost, and change strings
Adjust the action and intonation
Use different systems to tune your bass
Make seasonal adjustments to keep your bass in top form
Warm up with proper exercises for a lifetime of healthy playing
About the Author
Greg Mooter
BUZZ
"I've had nothing but good experience with the published materials from Berklee Press. These are the books their instructors write and use. They emphasize solid musicianship, not flash. It's really hard to go wrong with these books if you apply yourself to learning what's in them."
-Matthew Brown, Active Bass.com
"The Bass Player's Handbook is packed with everything from professional advice, to how to get your musicianship together, to working on your needed skills, to important advice on physical stretches, to getting work, and more. Whether you play acoustic bass or electric bass, this timely and precious "bible" of important information has important information you won't find anywhere else but is critical to every bassist. It's good to see so many subjects expounded on from an experienced player-educator's viewpoint, sorted out in categories, and meticulously put together in this very critically needed book."
- Carol Kaye, No. 1 Recording Bassist and Bass Education Leader
"This guide is a must if you're hungry for bass knowledge. It contains a wealth of well-organized information, from instrument repair and maintenance to personal warm-ups and performance. Mooter will help any player make the transition from acoustic bass to electric, or vice versa. An excellent and appropriately titled guide."
- Rich Appleman, Bass Department Chair, Berklee College of Music
"The Bass Player's Handbook is a great resource for the student and professional bass player alike. This manual covers a huge amount of information, including tips that I've never heard before! It should be of great interest to every bass player."
- John Repucci, Bass Department Assistant Chair, Berklee College of Music; Bassist, Herb Pomeroy Band
"If bass is in your life, this book is your necessary companion. Whether it's bass history, repair, practice habits, health maintenance, or anything else relating to bass, Greg Mooter's Bass Player's Handbook holds the key!"
- Danny Morris, Bassist; Author of Instant Bass
"Wow! Jam packed with information every bassist should know. You could call this book the "Bass Dictionary." Whether you are an acoustic or electric bassist, this book is a must for your bass library!"
- Joe Santerre, Bassist; Author of Rock Bass Lines and Slap Bass Lines