Book/CD
HL #50449569
ISBN 0876390912


Funk/R&B Guitar: Creative Solos, Grooves, and Sounds
by Thaddeus Hogarth
available from Amazon.com

Learn deep funk/r&b guitar.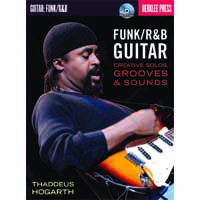 These hands-on exercises, licks, and technical explanations will help you play in the style of Prince, James Brown, Kool and the Gang, Sly and the Family Stone, Jimi Hendrix, Curtis Mayfield, Soulive, and other great artists, spanning from old school to contemporary funk/r&b grooves. The CD features demonstration and practice tracks, played by the Boston-based r&b/funk group, the Thaddeus Hogarth Band. Guitar tablature, fretboard diagrams, and traditional notation are included. You will learn how to:
Play lead lines and build solos
Understand and use scales over funk/r&b harmonies
Create rhythm-guitar parts that support funk/r&b grooves
Bend strings to expand your palette of scales, harmonies, and ornamentation
Use articulations, such as muting, sliding, plucking, and others
Use characteristic funk/r&b amplification and effects such as distortion, wah-wah, envelope filters, chorus, and more
Gain facility with all these tools via time-tested exercises
Thaddeus Hogarth is an associate professor of guitar at Berklee College of Music, where he has trained hundreds of guitarists in the art of funk/r&b. He is an active performer and recording artist.
"When I was a young blood, starting out in the Apollo Theater house band, the knowledge the old timers shared with me was invaluable. As I started working through the lessons in this book, it felt like an extension of those glorious soulsters—guiding me like Lewis and Clark, down the trail to Funkland. This will be a priceless tool for the novice, as well as the pro of other disciplines. Bravo."
—Nile Rodgers, Guitarist/Producer/Composer/Arranger (Chic)
"Thaddeus Hogarth has articulated some of the 'secrets of the funk' in an easy to understand, practical manner. It is the only book I've ever seen that approaches funk and r&b with due respect, in its simplicities and complexities. He not only gives great examples but also takes you into the exploratory harmonic possibilities to find your own voice. If you're looking for "That Book" to unlock the inner workings of the groove and what to do on top of it, this is the book to read."
—Billy "Spaceman" Patterson, Guitarist/Composer/Producer/Arranger (James Brown, Sly Stone, Miles Davis, George Clinton)
"A timeless staple of r&b guitar. The format is meticulously detailed, the recorded examples are first rate, and the listening list is a veritable treasure-chest map."
—Mick Goodrick, Guitarist/Educator (Gary Burton, Pat Metheny)