Vocal Workouts for the Contemporary Singer
by Anne Peckham
available from Amazon.com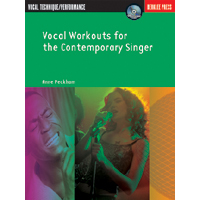 This essential vocal companion provides singers of today's music with complete exercise circuits to match all voice types and levels, whether they're new to singing or an experienced professional.
Grounded in traditional vocal technique and updated for singers of rock, rhythm and blues, hip-hop, and other contemporary styles, this book will expand your vocal technique, power, stamina, range, and expressive breadth. Warm-ups get you ready to sing. Workouts build your vocal strength and all aspects of your technique. The accompanying sing along CD will be your constant workout accompanist making vocal exercises and practice accessible.
In this book, you'll get:
26 exercises for warming up and developing your voice
Basic and advanced workouts for high and low voices
2- and 3-part exercies for harmony practice
Routines to help you organize your practice time according to your level and schedule
A sing-along CD to support your workout, for all voice types: male/female and hgih/low
Detailed descriptions and helpful tips for how to warm up and develop your voice, discussing breath control, practice strategies, and specific technical advice for improving your control over vibrato, range, and belting
Essential advice for vocal study, voice maintenance, and auditioning
This book is the practical companion to Anne Peckham's best-selling The Contemporary Singer, which has become the preeminent book on vocal technique for contemporary singers, used in music and choral programs all over the world.
About the Author
Anne Peckham, Professor of Voice at Berklee, is also a clinician, choral director, and specialist in musical theater."
BUZZ
"Great musicianship all around, from talented singers to cool songs to groovin' examples played by awesome musicians. I used The Contemporary Singer warm-up CD on tour religiously and loved it. This new Vocal Workouts book and CD are fantastic!"
Adriana Balic, background vocalist and keyboardist for PINK; former Assistant Professor of Voice at Berklee College of Music
"Anne Peckham hits a home run by creating a vocal workout that covers all the bases. This is a clear and concise program packed with interesting and challenging exercises that are fun to practice."
Mark Baxter, www.voicelesson.com
"Another excellent guide for the amateur or professional vocalist."
Kevin Mahogany, recording artist, Mahogany Jazz
Also by Anne Peckham