Joe Lovano Improvisation (DVD)
by Joe Lovano
available from Amazon.com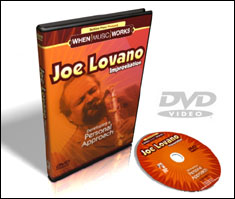 Play any instrument with more spontaneity and feeling; relax and let your musical ideas flow.
Develop your own voice with the practice techniques that have helped make Joe Lovano one of the most respected improvisers of our time. In this Master Class, Lovano shows you how to play with the greater spontaneity and feeling. He'll teach you how to interpret the melodic, rhythmic and harmonic essence of a tune. Create your improvisational ideas from within these musical elements. And make sure your journeys arrive somewhere. Lovano brings these ideas to life in solo, duo, trio and quartet performances filled with his expressive sax lines. His lessons will help you make the most of your solo practice time, and interact more creatively with other musicians. Perhaps most importantly, Lovano will inspire you to relax, hear the music, feel the mood and let your ideas flow.
Running time: 59 minutes
Berklee Press DVDs are coded for all regions
Watch the Trailer
Preview this DVD by watching the trailer in our Online Video Stream player. You need the free Flash 6 Player from Macromedia to view the trailers. Download it from http://www.macromedia.com.
Watch the trailer: Low/Modem or Hi/Broadband
About the Author
Joe Lovano
With his restless creativity and brilliant improvisational skills, many critics consider Joe Lovano a legitimate successor to Coltrane, Parker, and the other giants of jazz saxophone. Lovano is a multiple Grammy nominee and two-time "Artist of the Year" in Down Beat magazine's readers and critics poll. He also won "Album of the Year" honors from both JazzTimes magazine and the Jazz Journalists Association.
Lovano has appeared in dozens of acclaimed albums as both leader and sideman. The many great musicians he's worked with include Woody Herman, Chet Baker, Elvin Jones, Mel Lewis, Charlie Haden, Bill Frisell, and John Scofield.
Sample Lessons on Berklee Shares
Samples from this title are available on Berkleeshares.com, where you can download free music lessons and share them with your friends.
Also by Joe Lovano