Book/CD
HL #50449479
ISBN 0634014331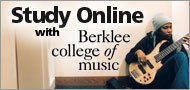 Berklee Keyboard Method
Berklee Keyboard Method
Master the basics of technique and chord voicings, and gain an understanding of more advanced concepts including interpretation of lead sheets and improvisation.
Blues and Rock Keyboard Techniques
Blues and Rock Keyboard Techniques
Study the theory and harmonic concepts common to blues and rock styles, and learn the licks, techniques, patterns, and improvisation styles.

Hammond Organ Complete: Tunes, Tones, and Techniques for Drawbar Keyboards
by Dave Limina
available from Amazon.com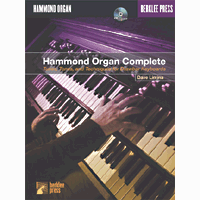 The secret to creating funky sizzles and classic Hammond sounds is mastering the combined use of the drawbars, expression pedal, and the Leslie speaker speed switch. Sound complicated and intimidating? It doesn't have to be!
This hands-on guide takes you step-by-step through the techniques of playing the drawbar organ, one skill at a time. Whether you're comping a rock tune or playing lead in a jazz trio, command of the Hammond organ will make you a sought-after player. Groove with this fun and comprehensive Hammond method!
Learn to:
Play gospel, R'n'B, jazz, blues, funk, and rock with an authentic Hammond feel
Improve your playing skills with hands-on exercises. The accompanying CD includes 21 exercises, plus performance demonstrations of eight songs, with minus-organ versions so you can play along
Achieve special effects used by the great Hammond organists, including unique tips and tricks for all drawbar instruments
Learn authentic rock, jazz, blues, and funk comping techniques
Understand all the parts of the organ and how to use them, including percussion, expression pedal, vibrato, chorus, and the Leslie speaker
About the Author
Dave Limina
BUZZ
"A great intro into the history and a comprehensive survey of the technique of the Hammond. Packed with lots of great genre-specific info that you can try out with the included practice CD, this book will make you never want to play anything without drawbars again."
- How to Jam (Keyboard magazine supplement)
"Dave Limina's book is absolutely recommendable for all Hammond players, even for those who are more experienced."
- International Archives for the Jazz Organ (IAJO)
"Whether you play the real thing or its software equivalent, this book proves useful for getting the most out of your instrument."
-Electronic Musician magazine
"Ideally, an existing keyboard player who has never made the Hammond B-3 journey and truly wants to, will discover this book. It's all laid out here, appropriately and accurately, so that one can surround oneself in the wonderful world of Hammond and come out on top!"
- Al Kooper, Keyboardist (Bob Dylan, Blood, Sweat and Tears, Rolling Stones, Jimi Hendrix); Producer (The Zombies, Lynyrd Skynyrd)
"A fantastic introduction to all aspects of playing the B-3 organ. Definitely worth checking out."
- John Medeski, Hammond B-3 Organist (Medeski, Martin and Wood)
"Whether you want to play jazz, blues, rock, or R'n'B on the B-3, this guide can help you polish your craft. "
- Mark Vail, Editor, Keyboard magazine; author of The Hammond Organ: Beauty in the B
"A very detailed and useful book on playing an instrument that's extremely difficult to teach."
- Larry Goldings, Jazz Organist, Pianist, Composer (John Scofield, Michael Brecker, Maceo Parker)
Also by Dave Limina