Book/CD
HL #50449498
ISBN 0634016555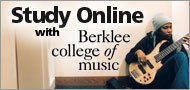 Guitar Chords 101
Guitar Chords 101
Gain a greater feel for your instrument by learning Berklee's approach to the construction of chords and chord voicings in this 6-week online course.
Guitar Scales 101
Guitar Scales 101
Organize the guitar fretboard, develop your technique, and gain a firm understanding of the pentatonic, blues, major, melodic minor, and harmonic minor scales and their modes.

Voice Leading for Guitar: Moving through the Changes
by John Thomas
available from Amazon.com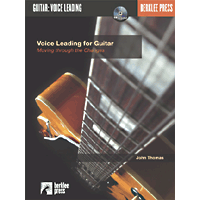 A Must for Every Serious Jazz Guitarist! Just knowing how to play a chord is never enough to make good music. Voice leading, moving individual chord voices smoothly from one chord to the next, is an essential skill for jazz guitarists. This book shows you how to voice lead both chord tones and tensions, and will help you add a new level of sophistication to your music.
Internalize voice leading techniques and effortlessly play the music you hear in your head
Develop facility on the entire guitar neck with more than 400 II - V - I exercises, in all twelve keys
Master voice leading technique by playing along with the jazz tunes, blues, and rhythm changes on the accompanying CD
Learn comping rhythms that work in blues, bebop, ballads, Latin, and other styles
Spice up your guitar playing by using more advanced chord sequences that include # IV - 7(b5), interpolative II - 7, diatonic turnarounds, and chromatic and dominant approach chords
This book is designed for intermediate to advanced guitar players.
About the Author
John Thomas
John Thomas is an associate professor of Guitar at Berklee College of Music. A composer, lecturer, and musician, he has toured internationally and recorded with Chet Baker, Dizzy Gillespie, Joe Henderson, Jimmy McGriff, Sonny Stitt, and Kenny Drew.
BUZZ
"John Thomas has written a very valuable, comprehensive approach to voice leading techniques. This book is very insightful and promises to be an eye-opener to the guitarist that utilizes this methodology." BUSTER WILLIAMS, Professor of Jazz Improvisation, New School University; Grammy –Award - Winning Bassist (Herbie Hancock, Sarah Vaughan, Nancy Wilson, Miles Davis and other jazz legends)
"John Thomas is an impressive and thorough jazz musician. A book on voice leading is a needed step in the evolution of jazz guitar education, and John is the best man to write it. His understanding of the altered scale is awesome. He not only knows the chords and scales, but more importantly, he knows the specific devices by which great players can create original-sounding solos." LARRY CORYELL, Fusion Jazz Pioneer, Electric Guitarist
"I can say without hesitation that Voice Leading for Guitar is a scholarly extension of John Thomas' excellent guitar skills. Significant demands can be placed on a guitarist, particularly in a pianoless band, and a key component that the guitarist must possess is a through knowledge of how to voice lead with 3/4/5 part chord voicings, in support of the melody and soloists. This book succeeds in presenting material, in a well thought-out methodology, that will not only benefit the beginner, but the advanced student and professional as well. I highly recommend its usage. This book should be included in every guitarist's bag." CHARLES TOLLIVER, Jazz Trumpeter; Adjunct Professor of Music, New School University