Book
HL #50449496
ISBN 0634015850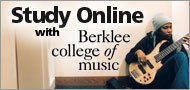 Getting Inside Harmony 1
Getting Inside Harmony 1
Use harmony creatively in your playing and writing. Learn to hear and modify chord progressions, improvise effectively from chord to chord and deepen your understanding of music's inner workings.
Getting Inside Harmony 2
Getting Inside Harmony 3
Take your harmonic development to the next level by gaining a solid footing in more advanced principles including melodic and harmonic tension, chord substitution, and chromatically altered chords.

Reharmonization Techniques
by Randy Felts
available from Amazon.com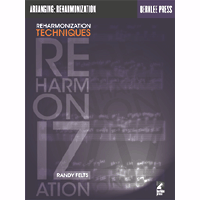 Reharmonization is the musical equivalent of a new paint job on an old car. When you reharmonize a tune, you give the melody new color by changing its underlying harmonics. Whether you write film scores, direct a band or choir, or play solo piano or guitar, you will find simple and innovative techniques to update songs and develop exciting new arrangements.
Learn reharmonization techniques such as:
Simple Substitution: substitute chords with others in the same harmonic family to vary tunes while maintaining their original color
Diatonic Approach: reharmonize with chords from a single key to create a harmonic change for most standard jazz and pop contexts
Adding Dominant and Subdominant Chords: use these chords, or their tritone substitutions, to create sophisticated harmonic sounds
Harmonic Displacement: relocate important cadential points in a phrase to create open space to fill with new chords
Modal Interchange: borrow chords from common minor keys to darken the harmonic color of phrases
Working with Bass Lines, Turnarounds, Extended Endings and Modulatory Interludes, Diminished Seventh Chords, Hybrid Chord Voidings, and other advanced patterns to give your music a unique sound
Read a Sample Chapter
Reharmonization Techniques sample chapter
About the Author
Randy Felts
Randy Felts has been a professor of jazz harmony at Berklee College of Music for over twenty-five years. He performs regularly on saxophone, flute, and Synthophone in contexts ranging from classic 1960s rock to original jazz and pop music. He is the U.S. representative for Softwind Instruments.
BUZZ
"Randy Felts takes the mystery out of reharmonization. From basic concepts to advanced techniques, Randy's clear explanations and logical approach to an often mystifying subject can help composers and improvisers introduce new colors and rejuvenating energy to their music." - Bruce Ronkin, Chair, Department of Music, Northeastern University
"Felts calls this his 'musical tool box' and he certainly nails it. Beginners or pros will wrench ideas from every page, as Randy hammers home his points with a clarity that doesn't screw up your brain. The well conceived drills will clamp these harmonic techniques firmly to every student, and the many musical examples put together the musical jigsaw." - Richard Niles, Arranger/Producer (Paul McCartney, Cher, James Brown, Joe Cocker, Pat Metheny)
Sample Lessons on Berklee Shares
Samples from this title are available on Berkleeshares.com, where you can download free music lessons and share them with your friends.