Book/DVD-ROM
HL #50449544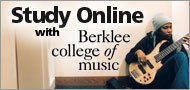 Producing with Pro Tools
Producing with Pro Tools
This 12-week course will guide you through everything you need to know to create great-sounding home recordings using Digidesign's Pro Tools software.
Pro Tools 101
Pro Tools 101
Pro Tools 101 constitutes the first stage of Digidesign's Pro Tools certification program. Learn the foundational skills needed to understand Pro Tools technology and software.
Recording and Producing in the Home Studio
Recording and Producing in the Home Studio
Take your demos through the entire music production process, and learn to apply a number of concepts and techniques that will dramatically improve the sound of your recordings, mixes, and masters.

Producing in the Home Studio with Pro Tools (3rd Edition)
by David Franz
available from Amazon.com

Create exceptional music using Pro Tools, in the home or commercial studio.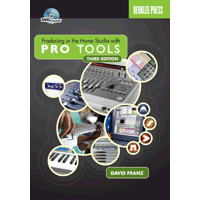 This book provides a complete explanation of the entire production process, from initial song demo to final master, while showing you how Pro Tools supports each step. Learn the latest Pro Tools functions and techniques—the methods the top producers and engineers use to make their music projects stand out from the rest.
Now in its third edition, the first book ever written about Pro Tools has been updated for Pro Tools 7.3, including all of the most recent improvements and features. It also covers all the new Digidesign home studio hardware, including the 003, Mbox2 Pro, Mbox2 Mini, and many M-Audio products, and shows you how to use them effectively. This edition also includes new chapters on recording, editing, using MIDI, mixing, and mastering.
The accompanying DVD-ROM includes 24 instructional videos on Pro Tools setups and techniques, in addition to 50 Pro Tools sessions that demonstrate techniques described in the book. Practice the production process using four "Project" songs in different genres (rock, hip-hop, electronica, and jazz). Visit www.protoolsbook.com for updates to this book and extra Pro Tools learning material.
Learn to:
Use all the powerful features of Pro Tools
Set up your home studio and improve the efficiency of your recording system
Position microphones to capture superior sounds
Record and edit high-quality audio and MIDI tracks
Run a recording session and elicit the best performances from an artist
Mix and master your recordings like the pros
Transform your song demos into professional sounding master tracks
David Franz is a songwriter, producer, engineer, arranger, educator, and performer. David's production company, Underground Sun, produces and engineers records for a wide range of Boston-area and international acts. He teaches production courses online at Berkleemusic, the continuing education arm of Berklee College of Music, and performs with his touring rock band, the Bleedin' Bleedins. He is author of Recording and Producing in the Home Studio (Berklee Press) and a contributing writer for Digidesign's DigiZine.
"This is an essential tool in any composer/producer's arsenal in learning the ins and outs of a very complicated system—with great ease. I learned something on every page, and I've been using Pro Tools for years!"
—BT, electronic music pioneer, film composer (Monster, The Fast and The Furious), mix engineer (Madonna, Seal)
"This is my favorite book about Pro Tools. Some of this stuff just isn't written about anywhere. If you use Pro Tools, you need this book."
—Ed Cherney, Grammy and TEC award-winning producer/engineer (Eric Clapton, Bob Dylan, Bonnie Raitt, the Rolling Stones)
"Filled with advice on the reality of recording and producing, this book connects Pro Tools instruction with real-world music production applications that a software manual can't provide. Though I'm a seasoned PT user, this book keeps showing me functions that I still haven't learned on my own. I have one copy in my studio and another at home with my LE rig."
—Larry Crane, editor/founder of Tape Op Magazine, Jackpot! Recording owner, producer/engineer (Elliott Smith, Jenny Lewis, M. Ward, the Go-Betweens, Stephen Malkmus, Sleater-Kinney)
Also by David Franz