Win a Steve Vai JEM Guitar
Steve Vai's signature Ibanez JEM guitar and his new online course with Berkleemusic are helping players around the world make music that would make him proud. Enter now to win a JEM guitar signed by Vai himself, a Jemini Distortion Pedal, and a free online course of your choice from Berkleemusic—a prize package valued at over $5000—and start making your own signature sound!
Berkleemusic
Ibanez
I'm already a member log me in!
Thanks

for your interest in the Steve Vai Guitar giveaway!

This contest ended on March 17, 2011 and the winner has been selected. Congratulations to Paolo T. of Brooklyn, NY on winning the prize pack!

Click here for official contest rules.
New Online Course from Berklee
Vai is ready to teach you all his secrets in Berkleemusic's exclusive new 12-week online guitar course.
Course Begins January 11th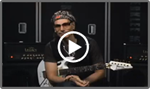 Click here to watch Steve Vai discuss his new Berklee online course