Producing and Mixing Contemporary Jazz
available from Amazon.com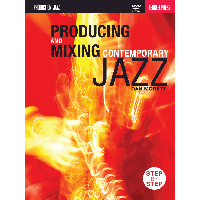 Capture the authentic sounds of contemporary jazz. This step-by-step guide will help you produce professional-sounding jazz recordings. Follow the process as a professional self-producing artist tracks and mixes three jazz tunes. Learn the effects, settings, and techniques used by the industry's top jazz producers and engineers. The DVD-R includes the audio tracks from the author's critically acclaimed recording Passing Place, for you to practice these techniques on any audio editing platform. Get the jazz spin on producing and mixing practices.
You will learn:
Essential tools and techniques for producing and mixing jazz
Microphone •setups and special tracking techniques
Sound processing recommendations and usage tips
How to reproduce the sounds of your favorite jazz recordings
The DVD-ROM includes:
Multitrack audio files of three full songs for mixing practice
Full scores and parts for each song
Jazz drum grooves you can use in your own projects
A guide to microphone technique
Other resources
Author Dan Moretti is a producer, engineer, studio owner, and recording artist. He teachers contemporary musical styles–based courses at Berklee College of Music, where he is a professor of Contemporary Writing and Production. He has released twelve projects of his own music, the most recent of which, Passing Place, hit the top 40 on the Billboard jazz charts.
Dan Moretti exclusively uses Shure microphones, Keilwerth saxophones, and Vandoren reeds and mouthpieces.
BUZZ
Moretti never lets you forget where jazz comes from and how it sounds. With easy-to-understand, hands-on steps, the book and data DVD focus on mixing and producing three great multitrack files, constantly reminding the reader about the groove and where the music begins: the human element.
—Victor Vanacore (Arranger/Music Director for Ray Charles, Jackson Five; active pops conductor/composer)
Dan Moretti's book covers production from a jazz artist's perspective. His extremely thorough workshops and DVD provide much-needed tools to guide players and producers through the process of recording and mixing jazz. The DVD not only includes multitrack audio for each workshop but also scores, parts, and eighteen multitrack drum loops in different styles you can use to create original recordings. Highly recommended for anyone serious about recording jazz.
—Hal Crook (Trombonist/Composer/Author/Educator)
Producing and Mixing Contemporary Jazz provides an excellent resource into the vast world of audio production and mixing. Anyone from a beginner to a seasoned veteran can learn something from this book. The reference tracks are a wonderful addition, making this product stand out from the others.
—Phil Magnotti (Engineer for Whitney Houston, Walter Beasley, Spyro Gyra, theme for Oprah Winfrey)
This book and accompanying tracks provides a wealth of information on the process of mixing with a step-by-step approach. It is an "over the shoulder" look at the methods and thought process of a recording engineer. This book goes a long way in training the students' ear to hear as a professional music engineer, and I recommend it highly, whether you're using Pro Tools, Logic, Digital Performer, Ableton Live, or any other digital audio editing program.
—Gary Lindsay (Arranger, Director of Studio/Jazz Writing, University of Miami)