World Jazz Drumming
by Mark Walker
available from Amazon.com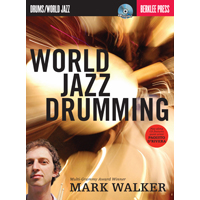 Enrich your drumming with world rhythms and sounds! World music presents many learning opportunities and challenges, especially for drums and percussion. Learning grooves from the Caribbean and South America will make you a more complete musician, and give you more ideas for creating your own sound and solos.
Many jazz greats have been inspired by world traditions: Paquito D'Rivera, Oregon, Lyle Mays, Caribbean Jazz Project, Andy Narell, Cesar Camargo Mariano and Michel Camilo. Author Mark Walker has worked with all these artists and others. Let him show you the authentic way to play world rhythms on the drum set!
The accompanying CD includes groove examples and play-along tracks of Mark Walker's original music, featuring guest artists such as Paquito D'Rivera!
You will learn to:
Adapt traditional percussion patterns to the drum set
Play dozens of Caribbean and South American grooves with knowledge and swing
Orchestrate each groove for different situations
Perform advanced concepts, such as chart reading, transitions and independence
Be prepared for many creative musical situations, through knowledge of more styles and greater mastery of drumming fundamentals
Mark Walker is a multiple-Grammy Award winning artist, who is currently a member of Oregon and the Pacquito D'Rivera Quintet. He is a professor of percussion at Berklee College of Music.
"You don't have to be Austrian to play Mozart, and Mark Walker is the best example of assimilating and successfully adapting element of the most differing cultures to the contemporary jazz language. We've been together for a couple of decades now, and I can't think of a more versatile, reliable, tasteful, and all-around drummer. In other words, Mark is my favorite! As a music educator, he also knows how to share his knowledge in a very clear and understandable way, and that is what he gives you in this book."
—Paquito D'Rivera, Multi-Grammy Winning Recording Artist
"Mark Walker is truly exceptional. Not only is he one of the most musical, and intuitive virtuosos on drums and percussion that I have played with, he also is extremely knowledgeable of the roots, tradition and mechanics of various Latin music forms that he performs. That he is also so adept at communicating the science as well as the spirit of the music in this book is an opportunity for us all to take advantage of."
—Ralph Towner, Grammy-nominated guitarist, pianist, synthesist, composer, ECM recording artist and co-founder of Oregon
"Mark Walker has that rare ability to sound completely natural and intuitive in any setting and yet describe in great detail just what it is he's doing. This book contains a great deal of that detail. In World Jazz Drumming, Mark demonstrates an encyclopedic knowledge of the field he surveys showing not only the specifics of the rhythms involved but practical, creative, and always musical ways of applying them."
—Lyle Mays, Pianist/Composer (the Pat Metheny Group)
"A uniquely comprehensive look at contemporary jazz drumming. Samba, mambo, baiao, chacarera, festejo, calypso, and so much more, all here in this "one-stop shopping" book of world rhythms. Kudos to Mark for putting it all together for us in this fantastic book and CD."
—John Ramsay, Berklee Percussion Department Chair, and author of "Art Blakey's Jazz Message"s and "The Drummer's Complete Vocabulary as Taught by Alan Dawson"
"When I need a jazz drummer who can play Afro-Caribbean, Latin, and Brazilian grooves with a real feeling of authenticity, I call Mark Walker. After nearly three hundred gigs together, I am continually knocked out by his musicality, attitude, and presence of mind. I think the insights in this book apply to all of us, and I'm sure drummers will find plenty of music in here to work on."
—Andy Narell, Steel Pan Player/Bandleader