Book/CD
HL #50449581
ISBN 9780876390948


Audio Mastering: Essential Practices
by Jonathan Wyner
available from Amazon.com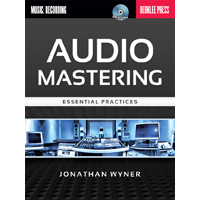 Improve the sound of your recordings. Mastering is the art of optimizing recorded sound, finding the ideal volume levels and tonal quality, and insuring data integrity necessary to produce a professional quality duplication and distribution ready master. This book introduces the techniques and tools of audio mastering, suitable for commercial and home/project studio environments. Technical discussions address gear, studio setup, methodologies, goals, and other considerations for making tracks sound their best, individually and in relationship to other tracks. The accompanying recording has audio examples that support two detailed case studies where readers can follow an engineer's manipulations step by step through a real-world mastering processes. You will learn to:
Use the tools, techniques, and setup of a mastering studio
Assess and improve sound quality by using meters, EQ, compression, limiting, and other sound modification tools
Understand the goals of mastering, and how the engineer's toolset is used to achieve them
Assess recordings to determine how to improve their sound
Jonathan Wyner is chief mastering engineer and president of M-Works Mastering Studios, one of the world's most esteemed and versatile audio mastering studios. He has mastered more than five thousand projects since the mid 1980s, spanning every musical idiom (and some non-musical idioms as well!) and has become a sought after resource for mastering education. His credits include legends such as David Bowie, Bruce Springsteen, James Taylor, Nirvana, and Kiri Te Kanawa, as well as many talents within the independent artist community, in addition to labels and studios, such as Columbia Records, Sony, Warner Brothers, and DreamWorks Studios. He is associate professor of music production and engineering at Berklee College of Music, in Boston, MA, and author of an online course about mastering for Berkleemusic.com, Berklee's online continuing education division.
"As much as has been written about methods, myths, and methodologies in mastering recorded music, there's plenty of room for a thorough, up-to-date, and above all competent review of what excellent mastering is, and isn't. Jonathan Wyner has crafted a terrific new written work on the subject, and has gone further by illuminating the many various approaches and choices with step-by-step audio examples of how to apply art and technology thoughtfully, tastefully, and well."
—George Massenburg, Producer, Engineer, and Inventor. Professor of Sound Recording, Schulich School of Music, McGill University
"This is a very easy-to-read but still comprehensive text on audio mastering techniques. Jonathan Wyner offers ample hands-on experience from his daily work as a mastering engineer. The step-by-step audio examples on the CDs are invaluable. All in all, a must-have book for anybody pursuing a career in audio mastering."
—Daniel Weiss, Weiss Engineering Ltd., Manufacturer of equipment for Mastering Studios
"A fantastic overview of the mysterious world of mastering! Audio Mastering does a great job of covering both the technical and creative aspects of our art. A must-read for all record production professionals—those aspiring to be mastering engineers and those who simply desire to be better informed on the mastering process."
—Adam Ayan, Multiple Grammy and TEC Award–winning mastering engineer (Carrie Underwood, Rush, Pearl Jam, Madonna, Foo Fighters, Rascal Flatts)
"Audio Mastering is an informative and entertaining read, with practical advice and insights into the techniques and tools of the trade that nearly any engineer will find immediately useful. The 'case studies' provide a rare, intimate, real-world look at the process, as if you're a fly on the wall at one of New England's finest mastering houses. Whether you are new to mastering or an experienced professional, you will find this book to be fascinating and practical."
—Tom Bates, Multi-GRAMMY Winning Engineer and Producer (Paul Simon, Sting, the Metropolitan Opera, and Saturday Night Live)
"Jonathan Wyner demystifies what is perhaps the least understood stage of the recording process. This step-by-step manual provides a clear roadmap for musicians and engineers alike, whether the objective is communication with a professional mastering facility, or learning the art of mastering itself."
—Scott Billington, VP of A and R at Rounder Records and GRAMMY® Winning Producer