Jazz Composition: Theory and Practice
by Ted Pease
available from Amazon.com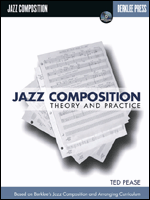 A culmination of Professor Ted Pease's twenty-five years of teaching jazz composition at Berklee College of Music.
Designed for classroom instruction at the college or advanced high school level.
Includes numerous jazz composition exercises which will help students develop writing skills and apply melodic, harmonic, and rhythmic concepts to the blues, song form, episodic composition, and multi-movement jazz works.
Click here to download a free chapter from the book!
Jazz Composition: Theory and Practice covers these concepts:
Melodic rhythm
Interval patterns
Guide tones
Compound lines
Antecedent and consequent phrase structure
Pitch contour
Modal harmony
Chromatic harmony
Pedal point
Slash chords
Modulation
Reharmonization
Quartal harmony, and much more
Includes chapters on arranging considerations, motivic composition, and fusion. Each chapter concludes with an extensive list of related jazz compositions and other source material. Also included is a CD with more than 70 minutes of related music examples from the book.
Learn more at TedPease.com! Get in-depth information for educators and students!
About the Author
Ted Pease, winner of two grants in jazz composition from the National Endowment of the Arts, has been a faculty member at Berklee College of Music since 1964. He is currently Distinguished Professor of Jazz Composition. He is the author of several jazz arranging texts that have been required reading for Berklee students for more than twenty-five years, among them Modern Jazz Voicings (Berklee Press). An accomplished drummer as well, he has performed with Herb Pomeroy, Ray Santisi, George Mraz, John LaPorta, Charlie Mariano, Toshiko Akioshi, and Red Norvo, among many others
Ted Pease
BUZZ
"I can not think of another book that treats jazz composition so comprehensively, is as practical or refers so richly to jazz literature. Ted Pease brings a lifetime's experience to this one volume, which easily could be the text for a college-level two-semester course. It is a serious book for serious jazz students."
-American Music Teacher magazine
"A monumental work. Finally a book that really addresses the subject of jazz composition. Should be in EVERY theory classroom and not just jazz."
-John La Barbera, Composer and Arranger/Associate Professor, University of Louisville
"Jazz Composition: Theory and Practice contains a wealth of information, much of which frequently gets short shrift in other jazz arranging/composing texts. The chapter on melodic considerations alone is well worth the price of the book. But, whether you adopt this book as your primary text or as a supplement, it is one that will prove indispensable for its exercises and reference materials."
-Chuck Owen, Composer and Arranger/Professor, University of South Florida
"Ted Pease has been a mentor to many a jazz musician. His book should be studied by all musicians."
-George Garzone, Tenor saxophonist with Joe Lovano Nonet/Associate Professor, Berklee College of Music
Sample Lessons on Berklee Shares
Samples from this title are available on Berkleeshares.com, where you can download free music lessons and share them with your friends.
Also by Ted Pease