Sean Slade—a course author for Berklee Online's new Master of Music in Music Production degree—gained worldwide recognition as a producer when he and partner Paul Q. Kolderie produced Radiohead's first hit, "Creep," and later the band's debut album, Pablo Honey.
Producing such a smash opened many doors for Slade and Kolderie, and the Fort Apache studios they founded. Legends like Warren Zevon and David Bowie wanted to visit their studios because of the sound they captured with Radiohead.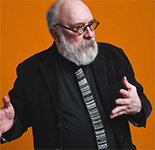 "Get those 'Creep' guys," is what Kurt Cobain told Courtney Love, when she was hunting for the perfect producer for Hole's 1994 high-water mark, Live Through This.
Lou Reed came to Kolderie and Slade when he was recording the classic, "This Magic Moment" for a tribute to the songwriter Doc Pomus. The session soon turned explosive, which you'll see in the video above. The song later appeared in David Lynch's Lost Highway.
"The big power chord that blew up the studio comes in at the moment when the femme fatale appears for the first time," says Slade, "and I thought, 'I can die and go to heaven now, because I've produced a song that was in a David Lynch movie! I should just retire.'"
But Slade didn't retire. He's continued to work in the industry and is now the course author and instructor of Culminating Experience in Music Production 1 & 2 for Berklee Online's graduate program. He is also an associate professor in the Music Production and Engineering (MP&E) Department at Berklee College of Music.
About the Master Track Series: Berklee Online is celebrating the instructors of their brand new master's degree programs with a series of animated videos. The videos will roll over the next few months as the application deadline approaches for the two master's degree programs: a Master of Music in Music Production and Master of Arts in Music Business. This video series not only shares compelling stories but also shines a spotlight on these Berklee instructors who have made great contributions to the music industry. Their talent, experience, and knowledge is priceless and is now accessible to post-graduate students accepted into Berklee Online's master's degree programs. To apply, visit online.berklee.edu/apply.