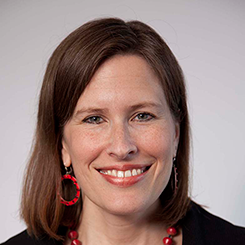 Carin Nuernberg
Vice President of Online Education
Dear McNally Smith Students,
It was shocking and sad to learn of the closing of your school. In many ways, McNally Smith is a kindred spirit of Berklee College of Music. We share a deep passion for music and harnessing students' creative potential as music producers, engineers, performers, songwriters, managers, entrepreneurs, and more. We also share similar academic majors and a focus on the study of contemporary music.
As you are searching for next steps, I would like to share information on one possible solution. Berklee Online is a division of Berklee College of Music focused on teaching students who are unable to come to the Boston campus. It offers a fully online, flexible, and affordable bachelor's degree program with eight majors, all of which are taught by Berklee faculty and industry professionals. It is nonprofit and, just like the Boston campus, regionally accredited by the New England Association of Schools and Colleges.
What may prove helpful and practical about Berklee Online's programs are the following:
You can transfer up to 60 credits to the bachelor's degree program. Special consideration will be given to McNally Smith students who have completed more than 60 credits. Coursework needs to align with your intended major, with a grade of C or better. Please send an unofficial transcript(s) to transfer@online.berklee.edu for specific information.
Given the circumstances surrounding the closing, we are offering a fast-track admissions process, requiring only an application and unofficial transcript showing that you are in good academic standing.
Berklee Online tuition is 33% less than McNally Smith's tuition, and federal financial aid is available to students who are US citizens or permanent residents.
You can choose from 8 majors, including Music Production, Electronic Music Production and Sound Design, Music Business, Songwriting, Music Composition for Film, TV, and Games, Guitar, Songwriting and Producing Music, and Interdisciplinary Music Studies. Learn more about these programs.
The online degree program serves over 1,000 students from across the country and around the world. Our students and faculty have formed a tight-knit, global community with myriad opportunities for professional collaborations, networking, and friendship.
Not only do students work regularly with Berklee faculty and industry professionals, they have dedicated academic advisors and student support services to ensure that the learning experience is top-notch.
Berklee Online has been the recipient of the best online college course award for an unprecedented eight years in a row from the national University Professional and Continuing Education Association (UPCEA), in addition to three of its faculty winning UPCEA's Excellence in Teaching Award.
Berklee Online offers four semester starts per year (fall, winter, spring, and summer). The next semester begins April 2, 2018.
I recently hosted a Facebook Live event with Sean McMahon, the former head of the Composition/Songwriting department at McNally Smith and now assistant chair of Film Scoring at Berklee, to provide an overview of Berklee Online's degree program and answer any questions you may have. I hope you find this information useful, and I wish you all the best in the coming weeks and beyond.
Sincerely,
Carin Nuernberg
Vice President of Online Education
Berklee College of Music