Guitar Skills
Tuition
$6,180
4 Courses (12 Credits)
or $1,545 Per Course
Only $5,562.00
when paid all at once
Beginning with guitar basics like chords and scales and moving on to nuances like improvisation techniques, form, control, and inflection, this Professional Certificate Program will take your guitar playing to the next level. Whether you play rock, jazz, folk, or metal, the mastery of the guitar skills taught in this program will move you in the right direction. Berklee's faculty is unparalleled when it comes to delivering the personalized instruction and feedback that will help you turn the fretboard into a playground packed with unlimited possibilities.
Course Requirements
4 Required Courses to Complete this Certificate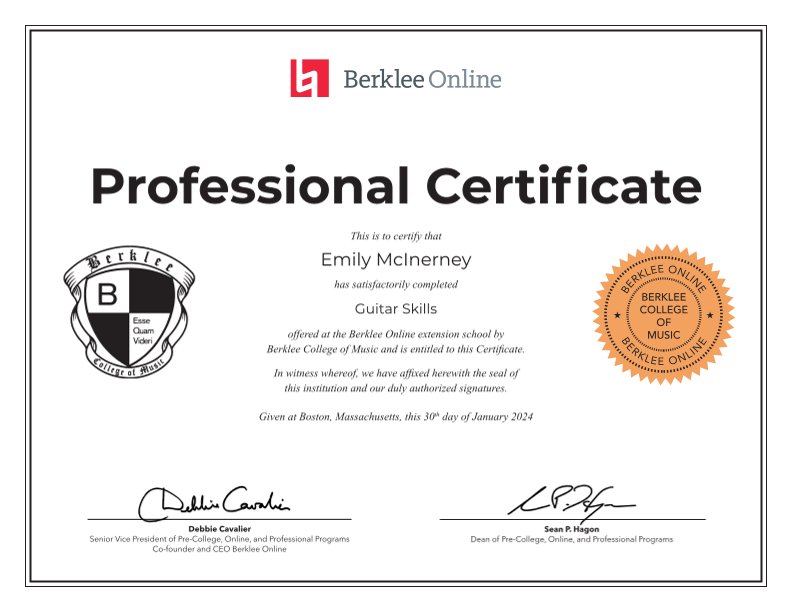 Upon Completion of this Certificate Program, You'll Receive:
Professional credential from the world leader in music education
Credits that may be eligible for transfer toward a Bachelor's degree program
A physical certificate from Berklee College of Music
A verified, digital certificate that you can share
---
Questions?
Contact our Academic Advisors by phone at 1-866-BERKLEE (U.S.), 1-617-747-2146 (INT'L), or by email at advisors@online.berklee.edu.