Music supervision stands at the center of two very powerful groups in the music industry: the creators of the music and the film and TV productions that rely on music to help tell and sell their story to the public. This course explores the ins and outs of music supervision, so that you will be able to function effectively on either side of a licensing transaction. The course begins with an overview of the many aspects of a music supervisor's job and then delves into the history, theory, and application of combining music and media. It provides an overview of the tools used by production teams, in addition to creative approaches, negotiation techniques, and licensing practices— essential information for artists who are interested in generating income from film or TV placements or students who want a career in music licensing.
The course contains exclusive interviews with music supervisors, sound and music editors, publishers, producers, engineers, and other music industry executives, including music supervisor Alex Patsavas, who has worked on over 60 films and television series (e.g., Grey's Anatomy, Gossip Girl, and The O.C.), and vice president of music for 20th Century Fox Television, Ward Hake (Glee, Modern Family, 24, The Simpsons, Family Guy, How I Met Your Mother, Sons of Anarchy, and Bones). Exercises, discussions, and assignments will be "real world," using materials from feature films, TV, ads, radio, and video games.
You will learn how to work effectively on a production team, locate resources for licensable music, offer creative options, select and license appropriate music, combine music with a variety of media, negotiate with a variety of rights holders, and generate detailed license requests, agreements, and cue sheets. The goal of the course is to give you a thorough understanding of the elements that make a piece of music a "perfect fit" for a production, in addition to an understanding of the needs of both the project (directors and producers) and the rights holders (writers, publishers, and master owners). Whether you are a publisher, songwriter / composer, master owner, or executive producer, you will gain skills needed to effectively work with the creative and budgetary aspects of combining music and other media.
By the end of this course, you will be able to:
Analyze and satisfy the criteria for an effective music placement
Understand rights holders' concerns
Operate within a budget
Negotiate effectively with anyone
Communicate with a production team
Establish familiarity with production workflow
Discover resources for licensing music
Customize licenses and create cue sheets
Discover unique opportunities for music supervisors
Get started as a music supervisor
Lesson 1: The Wide World of Music Supervision
What Does a Music Supervisor Do?
History of Music Supervision and the Evolution as Technology Advances
Ownership Rights and Performing Rights Organizations, Copyright
Basic Tenets of Copyright
Finding and Licensing Music
Assignment 1: Choosing a Song for a Scene
Lesson 2: Theory and Applications
Merging Sound with Vision: Creating a Unified Feeling
Sound Design and Location: Preserving the Perspective of Viewer/Actor
Choosing Appropriate Filters to Emulate Environment
Defining Different Uses of MX: Score, Source, Theme, Bed, Atmospheric
Defining Sound FX, "Nat" sound, ADR
Assignment 2: Layering Elements of Score to Accompany Picture
Lesson 3: Communicate and Create
Keys to Communicate
Dramatization
Scripted Songs and Onscreen Performances
Findings Songs Appropriate to Pitch for Scene
Communication with Decision Makers
Assignment 3: Finding Songs from Music Libraries
Lesson 4: Tools of the Trade
Overview of Past and Present Tools Used in Radio, TV, Film, Sports Complexes, and Internet Streaming
To Edit or Stretch?
Convert Full Audio to Smaller Format
Delivery Methods
Set Up Database of Songs Using "Tags"
Setting Up Your "Studio"
Assignment 4: Using Audio Editing Software
Lesson 5: Who Owns What?
Copyrights, Publishing, and Record Companies
Searching PROs for Info: Foreign PRO and US PRO
Approaching Rights Owners
Assignment 5: Searching Songs by Artists
Lesson 6: May I See Your License?
Master/Sync and Back-End Deals
Filling in a Complete License
Mechanicals, Soundtrack, Blanket Licenses
Working with Composers and Network Owned Publishing
Types of Usages: BI, BV, SRC
Creating a Proposal, Quote Request
Working with a Budget
Assignment 6: Creating Quote Requests and Master/Sync Documents
Lesson 7: Time to Negotiate!
Interest-Based Negotiation
Hard Bargaining: Immovable Rights Owners
Multi-Party/Multi Issue
Assertiveness: How to Assert Yourself in a Positive Way
Assignment 7: Honing Your Negotiating Techniques
Lesson 8: Music Styles and Placement
Be Able to Consider All Types of Music
Researching a Style of Music
Spotting Sessions
Vibe or Lyric?
Song Elements: Tempo, Feel, Harmony, Instrumentation, Era
Assignment 8: Finding Music that "Fits" a Clip
Lesson 9: Cue Sheets and Royalties: A Direct Connection
Cue Sheets
Spotting the Missing Info
Filing Methods/Formats
Correcting Cue Sheets
Why the Cue Sheet Matters
Assignment 9: Creating a Cue Sheet Based on Master Sync Licenses
Lesson 10: Starting the Final Project
Identifying What the Director Wants
Using Your Contacts, Established Music Libraries, Networks
Sorting and Organizing: Conversations, License Acceptance, Re-Record Options, etc.
Dealing with Changes
Assignment 10: Assembling the Final Project
Lesson 11: Unique MX Sup Opportunities
Video Games
Choosing Music on "Car Radio" for Video Game
AM/FM Radio, Local TV Broadcast
Internet Streaming, Web "Branding," Online Newspapers
Small Devices, Toys, Greeting Cards
Stadiums, Retail Stores, Casinos (Muzak and DMX)
Assignment 11: Picking a "Niche" MX Sup Area
Lesson 12: Get Started
How You Can Get Involved?
Film School Projects
How Do You Measure Up?
How Do You Get Paid?
Accepting Unsolicited Submissions
Assignment 12: Final Project
Brad Hatfield
Author & Instructor
Brad Hatfield is an Emmy Award-winning composer and one of Boston's most prolific and popular musicians. He was nominated and won an Emmy in 2006 and received a Primetime Emmy nomination in 2010. His musical compositions have been heard on movies such as Borat, Analyze This, The Break Up, and Iron Man 2, as well as the TV series The Sopranos, Six Feet Under, ER, CSI, Saturday Night Live, Friends, The Young and The Restless, and dozens more. Hatfield is currently the co-composer for the FX Television series Rescue Me, starring Denis Leary. You can also hear him playing solo piano for the opening scene and end credits of Clint Eastwood's film, Mystic River.

Hatfield currently teaches Music Supervision, Songwriting, and Music Industry courses at Northeastern University and Songwriting at Berklee College of Music.

For more information, visit:

www.bradhatfield.com
---
Level

Duration

12 weeks

3-Credit Tuition

$1,479

Non-Credit Tuition

$1,229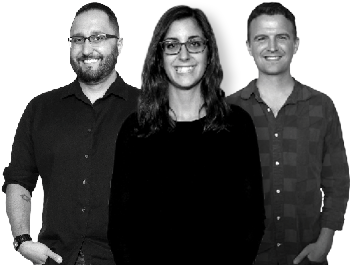 ---
Secure form. Berklee Online will not sell or rent your email address to third parties.
Our privacy policy