Vocal Styles
Tuition
$4,491
3 Courses (9 Credits)
or $1,497 Per Course
Only $4,041.90
when paid all at once
Whether you're a seasoned professional vocalist looking to expand your repertoire, or an amateur who wants to sing more effectively, studying with Berklee's renowned faculty will give you an understanding of vocal technique across genres that will help you find your own unique voice, literally! A successful vocalist is ready for whatever the gig demands, and the Vocal Styles Professional Certificate Program will develop your technique and skills in the pop, R&B, and rock genres so that you'll be comfortable with almost any set list you may encounter in the studio or onstage.
Course Requirements
3 Required Courses to Complete this Certificate
Popular Singing Styles: Developing Your Sound
(OVOIC-252)
Popular Singing Styles: Developing Your Sound will help the aspiring singer develop their own keen ear as they develop their own sound, and learn how to shape their voice for tone and style.
R&B Vocals
(OVOIC-243)
Learn the vocal techniques of the R&B greats, including Steve Wonder, Aretha Franklin, Ray Charles, Marvin Gaye, and Beyoncé. In this course, you'll gain the necessary skills to sing R&B in an authentic way, including proper phrasing, riffing, shouting, scale patterns, rhythmic articulation and much more.
Pop and Rock Vocals
(OVOIC-241)
Learn to sing everything from classic hits to pop and rock to singer-songwriter styles to contemporary indie rock in an authentic way.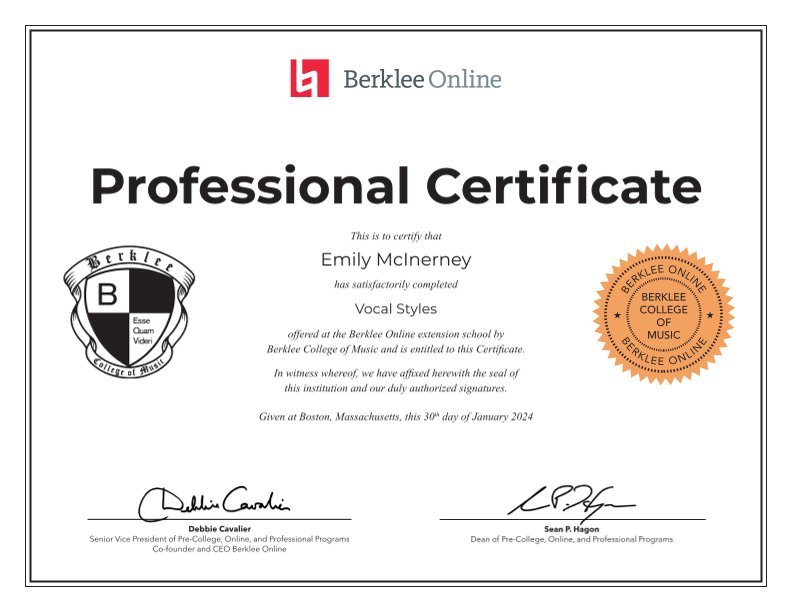 Upon Completion of this Certificate Program, You'll Receive:
Professional credential from the world leader in music education
Credits that may be eligible for transfer toward a Bachelor's degree program
A physical certificate from Berklee College of Music
A verified, digital certificate that you can share
---
Questions?
Contact our Academic Advisors by phone at 1-866-BERKLEE (U.S.), 1-617-747-2146 (INT'L), or by email at advisors@online.berklee.edu.
We can also answer basic questions in the comments below. Please note that all comments are public.
Comments