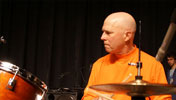 Labeled the "Buddy Rich or Billy Cobham of funk drumming" by Jazz Times Magazine, Jim Payne has had a long career as a drummer, educator, producer, and collaborator with the best in jazz and funk. He has performed with the J. B. Horns, Maceo Parker, Fred Wesley, Pee Wee Ellis, Michael Brecker, Dave Liebman, the Radio City Music Hall Orchestra, and his own band The Jim Payne Band, in addition to playing every major European and U.S. jazz and blues festival, including the Montreaux Jazz Festival, the North Sea Jazz Festival, and the Paris Jazz Festival.
Payne is the author of eight books, CDs, and DVDs, including The Great Drummers of R&B, Funk & Soul, Funk Drumming, Advanced Funk Drumming: A Progressive Approach to Modern Drumset, Drumming with the Mambo King (written with the late Tito Puente), Tito Puente: King of Latin Music, Drums from Day One, The Complete Book of Funk Drumming, and 100 Famous Funk Beats. He is a well-known clinician, having performed clinics at many colleges, drum stores, and the annual PASIC International Percussion Convention. He taught at Drummers Collective for 10 years, teaches privately at Drummers World in New York City, and also runs the Manhattan Jazz Workshop at the Church St. School of Music and Art. He is a regular contributor to Modern Drummer magazine.
As a producer, Payne has produced records for Medeski Martin & Wood (It's A Jungle In Here and Friday Afternoon In The Universe), The J.B. Horns (The J.B. Horns: PeeWee, Fred & Maceo, and Funky Good Time, Live In Tokyo), Mike Clark and Paul Jackson (The Funk Stops Here, featuring Kenny Garrett), Jim Payne's NY Funk (with performances by Ray Anderson, Ellery Eskelin, and Steve Swell), Pee Wee Ellis (Blues Mission), John Medeski/David Fiuczynski (Lunar Crush), and the Jim Payne Band (Sensei, Energie, and Yes!).
For more information about Jim Payne, visit www.funkydrummer.com