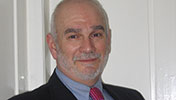 Dr. Joseph (Joe) Miglio, is currently in his ninth year as a faculty member at Berklee and is an Associate Professor of Music Business Management.
His areas of specialization are business design and delivery strategy, organizational development and learning assessment. Joe has spoken at conferences and consulted with a variety of higher education institutions on critical success areas such as instructional design and facilitative pedagogy, institutional planning and program review, faculty development, and competency- based learning assessment, and their impact on stakeholder effectiveness.
Joe was selected in 2012, to receive the 3rd Annual Distinguished Faculty Award for the Professional Education Division at Berklee, based on his outstanding commitment to teaching, dedication to his students, and contributions to the curriculum.
Joe has a Doctorate in Education from National Louis University in Chicago and is the creator of the Reflexive Engagement Method, a model of reflective inquiry for self-knowledge construction. He is currently engaged in two new projects: authoring a book, "The Rule of Yes" which looks at transpersonal understanding based on experiential learning opportunities; and conducting interview based research for a documentary entitled The Working Artist," which will look at the daily practices and philosophies of artistry as process and product.