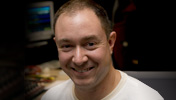 Ted Paduck is an assistant professor in the Music Production and Engineering (MP&E) Department at Berklee, where he teaches Mix Techniques 1 and 2, as well as Multitrack Techniques. Since graduating from Berklee in 1991 with a bachelor's degree in Music Production and Engineering, Paduck has worked with an impressive roster of artists.
Early freelance engineering projects in Boston at such studios as Syncro Sound, Newbury Sound, and Soundtechniques eventually led to a staff engineering position at the latter, where he worked with Aerosmith, Duran Duran, Nine Inch Nails, Run DMC, Busta Rhymes, and Erika Badu, and also engineered television spots for commercials and film scores for Better than Sex, Prefontaine, and the HBO series Earth to the Moon.
Today, he is a staff engineer/producer at Mix One Studios, formerly Soundtechniques. Recent clients include Paul Simon, John Mayer, Ciarra, Bow Wow, Jo Jo, Toots and the Maytalls), and countless local unsigned artists. Among his accomplishments is the recording of "Never Grow Old" with the Skatalites for their True Love album, which won a Grammy for Best Reggae Album in 2003. He has also worked on the film scores for the John Sayles film Silver City and Berklee alum Mike Teoli's film The Red Thread.