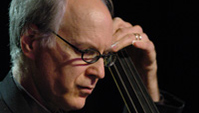 David Clark was the resident jazz instructor at the International School for the Double Bass in Cincinnati during which time he was twice recipient of the National Endowment for the Arts Jazz Study Grant. He is currently a professor at Berklee College of Music where he teaches bass and jazz. He is the musical director of the Berklee Faculty Inter-Galactic Sun Ra Astro-Infinity Myth Equation Commemorative Arkestra.
As a performing bassist, David has appeared with Mose Allison, Karrin Allyson, Nat Adderly, John Abercrombie, George Adams, Bruce Barth, Gary Bartz, Lois Bellson, George Benson, Jerry Bergonzi, Joanne Brackeen, Randy Brecker, Alan Broadbent, Donald Brown, Gary Burton, Terry Lynn Carrington, Cyrus Chestnut, Michael Feinstein, Sonny Fortune, Peter Frampton, Slide Hampton, Billy Hart, Jimmy Heath, Lee Konitz, Howard Levy, Dave Leibman, John Medeski, Greg Osby, Clark Terry, Shiela Jordan, Bill Pierce, John Proulx, John Scofield, Gunther Schuller, Keely Smith, Zak Starkey, Bennie Wallace, Claudio Roditi, Danilo Perez, Mick Goodrick, Ellis Marsalis, Lyle Mays, John Pizzarelli, Danny Richmond, Tiger Okoshi, Rosemary Clooney, James Williams, the Boston Pops under John Williams and Keith Lockhart, The British Rock and Roll Symphony, Natalie Merchant, Patti Austin, Emily Remmler, Orange then Blue, Strange but Trio, Tierney Sutton, Phil Woods, Atilla Zoller, and many others.
David is also a prolific jazz writer, and his compositions have been recorded by such artists as Gary Burton, Cercie Miller, Tim Ray, Dick Johnson, Armen Donelian, and Strange but Trio. He has received the Mass Council for the Arts Award for Jazz Composition. He received his bachelor's and master's in composition from the New England Conservatory of Music.